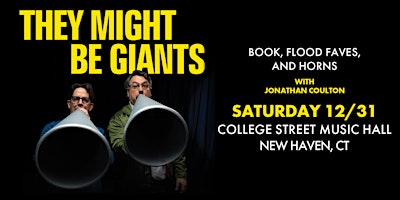 Premier Concerts and Manic Presents:
with Jonathan Coulton
Doors: 8:00 pm | Show: 9:00 pm
Min. Age: 16+
College Street Music Hall
New Haven, CT
This event is General Admission Standing Room on the Floor and Reserved Seated in the Balcony.
They Might Be Giants perform their Greatest Hits! TMBG and their barnstorming live band will deliver all of your favorite songs plus some unexpected surprises. Don't miss this exceptional show.
THEY MIGHT BE GIANTS
A band doesn't tour for 35 years if the people don't come back for more. Brooklyn originals They Might Be Giants is a beloved perpetual motion machine. The band's melodic, upbeat, energetic, spontaneous, and often virtuosic show delivers in a way most live acts can't. As they enter their fourth decade of music-making, the band continues to burnish their legendary status by actively recording their original songs and touring internationally. They've made over 20 albums, sold more than a few million, and won a couple of Grammys.
Links: Official Website | Facebook | Instagram | Twitter | Spotify
JONATHAN COULTON
Jonathan Coulton is known for his eclectic catalog of masterful songwriting on subjects from zombies and mad scientists to sad parents and dissatisfied software engineers. He's written songs for The Good Fight and Braindead TV series, as well as the Portal video games, and Spongebob Squarepants: The Broadway Musical. He was the house musician for the NPR show Ask Me Another and is the host and namesake of an annual floating nerd convention called JoCo Cruise.
Links: Official Website | Facebook | Instagram | Twitter | Spotify