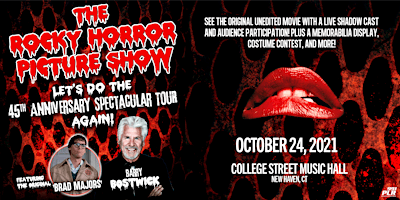 Presented By99.1 WPLR presents:
​
Doors: 7:00 pm | Show: 8:00 pm
All Ages
College Street Music Hall
New Haven, CT
This event is fully reserved seated on the Floor and in the Balcony.
COVID-19 Vaccination (14 days past second shot) OR proof of negative COVID-19 PCR test (received within the past 72 hours) required for entry. If vaccinated, please bring your vaccination card or clearly legible photo of your vaccination card on your phone and a valid photo ID. If unvaccinated please bring printed or digital proof of your recent negative PCR test. Masks are required for all ticket holders and staff despite vaccination status. You may pull your mask down when eating or drinking only. These policies will remain in place until further notice.
To present proof of vaccination and/or negative PCR test results on your phone, we've partnered with Bindle, a digital health platform that is secure, easy to use and completely anonymous; your personal health information is never shared and your biometrics are not required. Visit the App Store or Google Play Store and search for "My Bindle." Set-up is free and simple. If you are unable to provide digital proof, physical proof is also accepted.
THE ROCKY HORROR PICTURE SHOW: LET'S DO THE 45th ANNIVERSARY SPECTACULAR TOUR...AGAIN!
See the original unedited movie with a live shadow cast (featuring the original Brad Majors - Barry Bostwick) and audience participation! Plus a memorabilia display, costume contest, and more! Special VIP Meet & Greet tickets available.
It's the event that will have you shivering with antici….pation. Celebrate the 45th Anniversary of The Rocky Horror Picture Show with the one-and-only "Brad Majors" himself, Barry Bostwick. Be a part of this party celebrating 4.5 decades of the phenomenon that has sparked fans to dress up and shout lines in movie theatres across the world. Put your hands on your hips for the Time Warp and sing your loudest Hot Patootie as you enjoy a screening of the film with all your favorite creatures of the night. Following the film, Barry Bostwick ("Brad Majors") will dish on all his best behind-the-scenes stories, working with Tim Curry and Susan Sarandon and so much more. Brad! Janet! Dr. Scott! Rocky! Whichever character you decide to be, make it your best costume and enter the fun contest. Give yourself over to absolute pleasure with The 45th Anniversary Of The Rocky Horror Picture Show with Barry Bostwick: Film Screening Party, Costume Contest, Audience Partici-Pation Plus Live Talkback And Q&A With Barry!
Links: Official Website | Facebook | Instagram | Twitter | YouTube
BARRY BOSTWICK
From his portrayal of the quintessential all American Brad Majors in "The Rocky Horror Picture Show" to the hilarious Mayor Randall Winston on ABC's "Spin City," Barry Bostwick has had quite a career spanning all genres and mediums of show business.
Barry has had starring roles in many highly acclaimed television films and miniseries. He portrayed George Washington in the two part Peabody award winning CBS miniseries epic "George Washington" and won a Golden Globe for his performance as Lieutenant "Lady" Aster in ABC's thirty-hour presentation of "War and Remembrance." He also starred in "Moviola," "Deceptions," "A Woman of Substance," "Murder by Natural Causes," "Betrayed by Innocence," "The Chadwicks," "You Can't Take it With You," "Once Upon a Family," "Red Flag," "Uncommon Love," "Body of Evidence," "Addicted to Love," "Parent Trap III," "Hawaiian Holiday," "The Great Air Race," "Captive," "Challenger," three adaptations of Judith Krantz novels: "I'll Take Manhattan," "Scruples," and "'Til We Meet Again," as well as Danielle Steele's miniseries "Once in a Lifetime." He starred in the ABC series "Foul Play," and "Dads," the Lifetime Special "Santa and Me" and the science fiction thriller "Tales from a Parallel Universe" for The Movie Channel. Aside from George Washington, he also played another President in "Men in White," National Lampoon's spoof of "Men in Black" for the Fox Family Channel.
Additionally, Barry has appeared in several television musical specials for PBS, including "Broadway Plays Washington," "The Best of Broadway," "In Performance at the White House," "Irving Berlin's 100th Birthday Celebration at Carnegie Hall," and an adaptation of the Broadway hit "Working." He has hosted the Great American History Quiz on the History Channel and he hosted the Disney California Adventure Special, which celebrated the opening of Disney's newest theme park. He also hosted the NBC television special celebrating the grand re-opening of Radio City Music Hall. He has hosted "A Capital Fourth," the PBS Fourth of July Special, live from the steps of the U.S. Capital six years in a row, in addition to hosting "Saturday Night Live" and dancing and singing with Carol Burnett in her special "Men, Movies and Carol" on CBS. Barry also is a reader for audio books.
Barry made his professional stage debut when he was a sophomore at San Diego's
U.S.I.U. School of Performing Arts in the summer stock production of "Take Her, She's Mine," with Walter Pidgeon. He attended NYU's Graduate School of the Arts and made his Broadway debut soon thereafter with the APA Phoenix Repertory Company in the title role in Sean O'Casey's "Cock-a-Doodle-Dandy." He was in the American premiere of Jean Genet's "The Screens." His first Tony nomination was for his characterization of "Danny Zuko" in "Grease." his second nomination was for his portrayal of "Joey" in "They Knew What They Wanted" for the Phoenix Theater. Barry won the coveted Tony for "Best Actor in a Musical" for his portrayal of "The Robber Bridegroom," a role he originally created at the Mark Taper Forum in Los Angeles. He performed in the all-star revival of "She Loves Me" at Town Hall and appeared at Lincoln Center in the New York City Opera Production of "L'Histoire du Soldat." He was the "Pirate King" in the Joseph Papp productions of "The Pirates of Penzance" in Los Angeles and Toronto. In 1991, he returned to Broadway to star in "Nick and Nora."
Barry's recent film credits include the soon to be released films "Tales of Halloween", "Alleluia! The Devils Carnival", "Helen Keller vs. Nightwolves", "Sleigh belles" and "Diani and Divine Meet The Apocalypse". Other recent films are "The Scorpion King 4: Quest for Power", "Blowing Vegas Off The Map," "Finding Joy," "FDR: American Badass," "Home Run Showdown," "The Selling," "Some Guy Who Kills People," and "Moby Dick: 2010", "Bedrooms," "Miss Nobody," "Destiny's Stand," "Bedrooms" and "Hannah Montana: The Movie" with Miley Cyrus, "Evening" with Meryl Streep, "Nancy Drew," "Skulls III" for Universal, the independent feature "Swing," Disney's animated "101 Dalmatians Part 2," "Chestnut-Hero of Central Park," "Weekend at Bernie's 2," Stanley Donen's "Movie, Movie," "Spy Hard" with Leslie Nielson," "800 Leagues Down the Amazon," and, of course, "The Rocky Horror Picture Show" and another cult fan favorite "Mega Force" for director Hal Needham. In the television world, Barry has recently recurred on several hit television series including "Scandal," "Cougar Town," "Ugly Betty" and "SVU." He has also guest starred on "Girlfriend Guide To Divorce", "Children's Hospital", "Enlisted," "Supernatural," "Glee," "The New Normal," Showtime's "Masters of Sex" and the 2-hour musical episode of "Psych," among others.
Barry has been very outspoken about his bout with prostate cancer several years ago. He has worked with many organizations and has spoken around the country as a prostate cancer survivor. On behalf of the American Cancer Society, Barry received the "Courage Award" presented by President Clinton in recognition of his determination to reach others about the importance of early detection. Barry is also the recipient of the Gilda Radner Courage Award from the Roswell Institute in Buffalo, New York, where the PSA test was developed, and the Brooklyn Hospital Foundation Award in recognition of his extraordinary efforts to tell his personal story in the hopes of helping others.
Barry is an accomplished ceramic artist. His work has been displayed in prominent galleries and he gives many of his pieces away to various charities around the country.