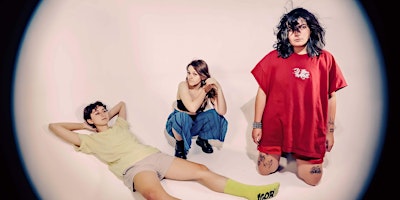 Premier Concerts and Manic Presents:
with Froggy
Doors: 7:00 pm | Show: 8:00 pm
All Ages
General Admission Standing Room Only
SORRY MOM
Sorry Mom is a femme punk band from New York City. Their music chronicles queer experiences and suburban despair through a nostalgic punk sound. What began as a group of college friends playing music together quickly evolved into something bigger upon the release of Sorry Mom's debut EP "Juno Goes to the Big House" in April 2021. As of July 2022, the band has garnered 10M+ streams across platforms and 50k+ followers across socials. In Fall 2021 and Spring 2022, Sorry Mom embarked on tours of the Northeast, playing ~30 unique venues across the region. Sorry Mom is currently working on their first full length album, slated for release in early 2023.
Links: Official Website | Facebook | Twitter | Instagram | Spotify
FROGGY
Froggy is a queer punk band formed by Morgan, Fiona, and Brooke in the Philly suburbs circa 2020. Inspired by L7, the Dead Milkmen, Bikini Kill and more, they released their first EP "Sopa De Elote" in 2021, and dropped their first full-length album "Harmburger" in the summer of 2022. They've played with notable artists like: Anti-Flag, The Queers, Pears, and Bad Cop Bad Cop, and their song "7-Eleven Nachos" even got its own professional video made by 7-Eleven. With a mix of classic punk, grunge, and youthful humor, believe us, Froggy will rock your socks off!
Links: Official Website | Facebook | Twitter | Instagram | Spotify