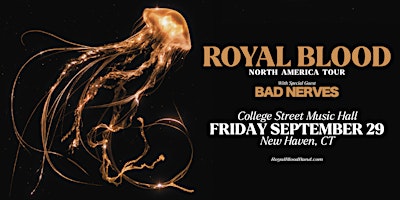 Premier Concerts and Manic Presents:
with Bad Nerves
Doors: 7:00 pm | Show: 8:00 pm
All Ages
College Street Music Hall
New Haven, CT
This event is General Admission Standing Room on the Floor, and Reserved in the Balcony.
ROYAL BLOOD
Brighton duo Royal Blood channel the blues-rock dynamism of the likes of the White Stripes, the Black Keys, and Two Gallants, yet they amp up the ferocity and volume with scuzzy riffs and blustering energy. Following their Mercury Prize-nominated/Brit Award-winning debut, 2014's Royal Blood, they consolidated their success with 2017's How Did We Get So Dark? and its 2021 sequel Typhoons.
Comprising drummer Ben Thatcher and bassist/vocalist Mike Kerr, the two-piece formed at the beginning of 2013 when Kerr returned from a trip to Australia and Thatcher picked him up from the airport. They managed to play their first show the very next day and continued to write new material throughout the year. Although constrained to just two instruments, they made their presence known with pounding drums and heavily distorted bass guitar that drove the melodic intensity of their songs, alongside Kerr's emotive vocals. They were championed by the BBC on their Sound of 2014 list, as well as Arctic Monkeys' Matt Helders, who wore their T-shirt during the Monkeys' headlining 2013 Glastonbury performance and invited them to open their huge Finsbury Park shows. The duo then released the single "Out of the Black" and signed to Warner Bros. later that year. A second single, "Little Monster," appeared in February of 2014, while a four-song EP, Out of the Black, came a month later in March, collecting the A- and B-sides of the two singles. Their debut self-titled full-length was recorded at Rockfield Studios in Wales and released later that year, reaching number one in the U.K. and Ireland. Tours with Iggy Pop and Foo Fighters followed, and in early 2015, Royal Blood won Best British Group at the Brit Awards, receiving their trophy from an admirer, none other than Led Zeppelin guitarist Jimmy Page. Royal Blood returned in June of 2017 with their sophomore LP, How Did We Get So Dark? Buoyed by the songs "Hook, Line & Sinker" and "I Only Lie When I Love You," the album hit number one in England and number 25 on the Billboard 200.
Royal Blood launched the campaign for their third album with "Trouble's Coming," a single that went to the top of Billboard's Mainstream Rock charts in the fall of 2020. Its accompanying album Typhoons was produced by Josh Homme of Queens of the Stone Age and appeared in April 2021. ~ Scott Kerr, Rovi
Links: Official Website | Facebook | Instagram | Twitter | Spotify
BAD NERVES
Bad Nerves are a 5-piece Powerpop-RocknRoll band from London. The bastard child of a Ramones/Strokes one night stand, they play ferociously fast distorted pop songs, with melodies that hook so deep, even the most skilled lobotomist would struggle to scrape them out. 

Links: Official Website | Facebook | Instagram | Twitter | Spotify