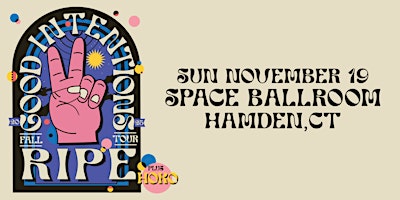 Premier Concerts and Manic Presents:
with HOKO
Doors: 7:00 pm | Show: 8:00 pm
All Ages
General Admission Standing Room Only
RIPE
Ripe's new album Bright Blues is a collection of 12 songs full of sleek grooves and bold melodies that the Boston quartet put together to help ride out tough times, an anthem for better days ahead.
"The wildest thing for me is that the record simultaneously sounds like it has the scars of everything we've been through and also that it doesn't — it's joyful music, which is very exciting given that it was made in the middle of getting hit in the stomach," says singer Robbie Wulfsohn, who came together with guitarist Jon Becker, drummer Sampson Hellerman and trombonist Calvin Barthel while they were all studying at Berklee College of Music.
The band drew acclaim from the likes of the Boston Globe, Huffington Post and WXPN with their first full-length, Joy in the Wild Unknown. Their streams on Spotify surged past 56 million as they conquered stages at festivals including Bonnaroo, Firefly, SweetWater and Bottlerock, and sold tens of thousands of tickets across the US, including selling out the iconic House of Blues Boston and Brooklyn Steel.
Bright Blues is their first release after signing to indie powerhouse Glassnote Records and their first release working with outside co-writers. Teaming up on production with Noah Conrad (BTS, Niall Horan) and Ryan Linvill (Olivia Rodrigo, Dermot Kennedy) helped bring the high-energy, freewheeling stage show to the recording studio, with the result being an album that shows the full scope of the band's abilities as writers and performers. The live show has always been at the core of who Ripe is, and now the recorded music can stand alongside it as an all-encompassing representation of who the band is and where they are going.
Bright Blues is available worldwide on March 10th, 2023 via Glassnote Records.
Links: Official Website | Facebook | Twitter | Instagram | Spotify
HOKO
HOKO stretch alternative into experimental pop, creating an uncategorizable and hypnotic sound that paints in broad strokes of psychedelia and rock. The New York band, Nathaniel Hoho and Jesse Kotansky, invite immersion into layers of rich soundscape architecture and hummable hooks. Nathaniel honed his chops on the streets, busking to survive and sleeping in his car before settling in Brooklyn where he met Jesse at a barbecue. Collectively, the two have worked with artists including Pond, Nick Allbrook, and J Mascis. Inspired by legendary artists like David Bowie, Queen, and The Beatles, the pair experimented with new sounds in a pop space, leading to their 2020 signing with EQT and the success of their single "OK OK." The band continued to gain traction with their independent EP Heathen, highlighted by fan favorites "Candy Eyes" and "Hellogoodbye," which was remixed by PVRIS. They performed at Lollapalooza, Bonnaroo, and supported artists like Milky Chance and Young The Giant. Their 2023 singles for EQT Recordings/Republic Records, including "Hazy," showcase their vision in a whole new light.
Links: Official Website | Facebook | Twitter | Instagram | Spotify