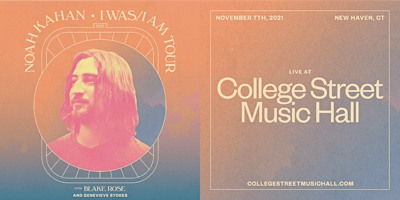 Presented ByPremier Concerts and Manic Presents:
with Blake Rose, Genevieve Stokes
Doors: 6:30 pm | Show: 7:30 pm
All Ages
College Street Music Hall
New Haven, CT
This event is General Admission Standing Room on the Floor. There will be limited first-come, first-served seating available in the back.
COVID-19 Vaccination (14 days past second shot) OR proof of negative COVID-19 PCR test (received within the past 72 hours) required for entry. If vaccinated, please bring your vaccination card or clearly legible photo of your vaccination card on your phone and a valid photo ID. If unvaccinated please bring printed or digital proof of your recent negative PCR test. Masks are required for all ticket holders and staff despite vaccination status. You may pull your mask down when eating or drinking only. These policies will remain in place until further notice.
To present proof of vaccination and/or negative PCR test results on your phone, we've partnered with Bindle, a digital health platform that is secure, easy to use and completely anonymous; your personal health information is never shared and your biometrics are not required. Visit the App Store or Google Play Store and search for MyBindle. Set-up is free and simple. If you are unable to provide digital proof, physical proof is also accepted.
NOAH KAHAN
Seasons change. Places change. People change. As Noah Kahan changes, he casts those experiences onto songs like light through a film projector. At the core of the music's upbeat energy and unfiltered lyrics, you'll hear who he was before and who he became—almost in real-time. The Vermont singer still pens songs straight from the heart and still cracks jokes with his signature, self-deprecating sense of humor; he's just changed in all of the right ways (and chronicled them via his songwriting).
The critically acclaimed singer and songwriter simply took two years of milestones and transformed them into his upcoming second full-length album, I Was // I Am [Republic Records].
"While writing this record, I've taken stock of who I am as compared to who I was when I started and what that means, for better or worse. I do have some perspective. I've also lost a lot. I've lost people close to me for different reasons. I've lost friendships. I lost my dog. Those experiences haven't necessarily hardened me, but they've made me incredibly grateful for what I have now. The biggest change is a little bit of clarity in terms of who I am and the person I want to end up being. The songs on the record represent a new understanding of myself," he says.
He gained that understanding through quite the journey from small town Vermont to global renown. He's racked up over one billion streams, released his full-length debut album Busyhead, picked up a Gold Certification for "Hurt Somebody" feat. Julia Michaels, and performed on television shows such as The Late Show with Stephen Colbert, Late Night with Seth Meyers, and TODAY. His 2020 Cape Elizabeth EP received widespread critical acclaim, and not to mention, he's collaborated with everyone from Chelsea Cutler to mxmtoon to Quinn XCII to Gryffin. In the fall of 2020, he headed to Los Angeles in order to record with engineer Mark Rankin (in person) and his Busyhead collaborator and Grammy Award-winning producer Joel Little [Taylor Swift, Lorde, Shawn Mendes, Jonas Brothers, Khalid] (via Zoom from New Zealand). Together, they tracked the bulk of the record during this trip.
"We would start at 3pm PT, because Joel was just waking up in New Zealand, and I was at my most impatient," laughs Noah. "It's the worst time of the day for me, because I still have some residual drama from being in high school. However, it felt like Joel was in the room. He's the greatest producer ever, in my opinion, and it was super fun to do this with him and Mark. Ironically, we made an album about changing, while staying in one place," he grins.
Preserving his commitment to vivid lyricism, he kickstarted the music with faster tempos and sweeping hooks, recharging the overall vision.
"I wanted these songs to be emotional, but I also wanted them to be bigger," he exclaims. "It's upbeat shit with sad and contemplative lyrics. You can listen to the record as a story, but each one of these songs is a big old banger."
His first single "Part of Me" perfectly encapsulates that sentiment. As handclaps and guitar ring out, the intimate verses drive towards a sweeping and soaring refrain as he tries to grasp a fleeting moment, "Got so close to love with you my dear, but I don't miss you, I miss the way you made me feel."
"I've met so many people briefly and often by chance either on the road or through friends, but I still think about them all of the time," he says. "They left a lasting impact. That line, 'I don't miss you, I miss the way you made me feel,' is important to me. It's not about the person; it's about the feeling of meeting someone who makes you consider this linear-head-down path you're on isn't right—or maybe they opened your eyes for just one second. You'll think about that one second for years. I know I do."
"Godlight" shines over glistening acoustic guitar as he admits, "I'm not the way I was," in a fluttering high register. "I was on tour with a lighting director who said I needed more 'Godlight' on stage," he recalls. "'Godlight' is the light that fixates on the singer, while the rest of the band is blackened down. In my life, I was chasing that. This ego was growing, and I saw it growing. I knew it was affecting my relationships. As a little kid if I saw myself giving so much of a shit about the attention on me instead of the music, I'd be really disappointed. The song is like I'm singing to my older self at a family reunion."
Then, there's "Animal" where his falsetto skates over head-bobbing handclaps and a slick beat. "Someone Like You" sways with Noah's soulful vocals towards another chantable refrain. "It's about immediate regret," he goes on. "When you lose someone in a relationship, you don't really understand that the person is gone. You're never going to have exactly that again."
For as much as he may have changed, Noah's goal stays the same.
"I still want to be able to connect to folks in the way I do and value when I listen to music," he leaves off. "Change is something you can learn from. It's never too late to be a better person and to move forward. Always work on yourself and give yourself a fucking break every once in a while. I hope listeners feel like there's more to learn about me, just like I do when I listen to my favorite artists. I also hope they're happy to stay along for the ride, because I've been so grateful for them so far."
Links: Official Website | Facebook | Instagram | Twitter | Spotify
BLAKE ROSE
Hailing from Perth, Australia, Blake Rose brings a depth to his music that is wise beyond his years. Marked by profound and picturesque lyricism, his songs are vibrant, powerful, and deeply authentic. At only 21-years-old, his single "Lost" was released to critical acclaim by the likes of Beats1's Zane Lowe praising it on air. The track was instantly added to Spotify's highly-coveted New Music Friday in the US, Canada, and a long list of other countries. Ones To Watch called his previous single "Hotel Room," "not just a debut single, but a promise from the aspiring Rose to be a force of nature."
Links: Official Website | Facebook | Instagram | Twitter | Spotify
GENEVIEVE STOKES
Early listeners have been floored by singer-songwriter Genevieve Stokes' amorphous drifts between brooding piano ballads and crisp modernity. At only 18 years old, she has been composing gut-wrenching songs decades beyond her years, waiting for the right moment to unveil her stories of loneliness and heartache to the world. Finally, that moment has arrived. In the summer of 2019, the Portland, Maine native released the first two songs from her debut EP - "Simple Love" and "Morning Dove". The forthcoming EP, a bold collection of songs conceived initially as part of a senior year project, marks the kick-off of a fresh and triumphant new force in music.
Links: Official Website | Facebook | Instagram | Twitter | Spotify