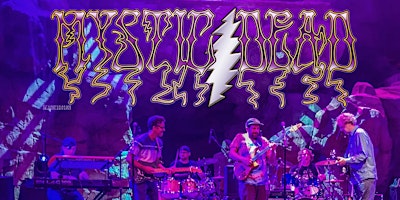 Premier Concerts and Manic Presents:
with Jelly
Doors: 7:00 pm | Show: 8:00 pm
All Ages
General Admission Standing Room Only
MYSTIC DEAD
In 2018 a group of musicians got together for a once a month Dead night at the Captain Daniel Packer inn in Mystic,CT. It turned out to be a seriously good time that translated to more shows, more fun and Mystic Dead was born.
Deep dives into all things Grateful Dead coupled by the freedom to remain true to their own creative individuality has been and will always be the mantra of all 6 members of Mystic Dead.
Links: Official Website | Facebook | Instagram
JELLY
During the chaos of the 2021 pandemic, Matt Kampe (sax, keys, vox) Connor Oyster (bass, vox), and Nate Lawson (drums), (formerly of Zillawatt) put a few tunes together with guitarist Devon Long for a one-off livestream set. The result… was good! And the undeniable chemistry demanded more exploration. Over the next few months, more and more material came together, culminating in a "return" to the stage in March 2022 at Arch Street Tavern. The response was electric. Jelly had a sound people were looking for. With proof of concept in-hand, the foursome was committed. Jelly has been steadily building ever since, bringing new fans on-board with every show and constantly growing their already sizeable catalogue of original music.
Links: Official Website | Facebook | Twitter | Instagram