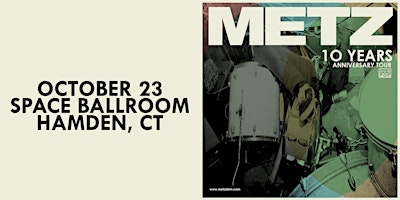 10 Years Anniversary Tour
with Spiritual Cramp‎
Doors: 7:00 pm | Show: 8:00 pm
All Ages
General Admission Standing Room Only
COVID-19 Policy
Masks are strongly encouraged.
By purchasing tickets to this event, you agree to abide by the State of CT, City of Hamden, Artist, and Space Ballroom's Health and Safety measures in effect at the time of the event. Check back for updates to your event on our website as guidelines and entry requirements are subject to change.
METZ
2022 celebrates ten years of both METZ as a band and of their critically acclaimed S/T album.
The music made by METZ, Alex Edkins (guitar & vocals), Hayden Menzies (drums) & Chris Slorach (bass) has always been difficult to pin down. Their earliest recordings contained nods to the teeming energy of early '90s DIY hardcore, the aggravated angularities of This Heat, & the noisy riffing of AmRep's quintessential guitar manglers, but there was never a moment where METZ sounded like they were paying tribute to the heroes of their youth. The sonic trajectory of their albums captures the journey of a band shedding influences & digging deeper into their fundamental core—steady propulsive drums, chest-thumping bass lines, bloody-fingered guitar riffs, the howling angst of fading innocence.
Links: Official Website | Facebook | Twitter | Instagram | Spotify
SPIRITUAL CRAMP
Citing sources from early Dub influenced Clash, Blitz and The Modern Lovers - Spiritual Cramp exist in a strange vacuum somewhere between David Byrne's oversized suit and a bar fight between a bunch of drunk goons on Polk Street in SF.
Hate for the police, the government, the status quo and himself are reoccurring themes in Bingham's lyrics. The sounds borrow from the past, echoes of late 70's / early 80's working class rock and punk, which function on the upbeat, showcasing very bright guitars yet generating darker vocal rhythms and darker patterning.
Links: Official Website | Facebook | Twitter | Instagram | Spotify