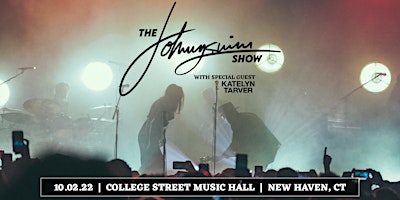 Premier Concerts and Manic Presents:
with Katelyn Tarver
Doors: 7:00 pm | Show: 8:00 pm
All Ages
College Street Music Hall
New Haven, CT
This event is General Admission Standing Room on the Floor. There will be limited first-come, first-served seating available in the back.
Masks are strongly encouraged.
By purchasing tickets to this event, you agree to abide by the State of CT, City of New Haven, Artist, and College Street Music Hall's Health and Safety measures in effect at the time of the event. Check back for updates to your event on our website as guidelines and entry requirements are subject to change.
This show has been rescheduled due to a few members of JOHNNYSWIM's team testing positive for Covid. The new date is 10/02/22. All tickets for the 6/17/22 show (initially scheduled for 10/9/21, then 4/5/22) will be honored. If you can no longer attend the new date, refunds are available by request until 7/17/22.
If you would like a refund, please contact Manic Presents customer service atcustomersupport@manicpresents.com. Please provide your name & order # when you reach out
JOHNNYSWIM
Much like families, bands go through it all together.
As a unit, they face life's ups, downs, highs, lows, trials, tribulations, tragedies, triumphs, and everything in between. They change, learn, and grow as one. However, Los Angeles band JOHNNYSWIM doesn't just seem like a family; it is a family. At the core, husband-and-wife -- Abner Ramirez and Amanda Sudano -- translate the memories, moments, and milestones on their journey into spirited, slick, and soulful anthems steeped in singer-songwriter tradition, yet amplified by alternative experimentation, rock energy, and pop ambition.
The music moves as the couple's life does, scrapbooking unforgettable experiences in melody like an eternal keepsake of their relationship.
"The music is the backdrop on which our life gets painted," affirms Abner. "We're not just writing partners; we're partners. There's no balance between work and romance. It's all a gumbo. Our first excuse to date and hang out was writing together. We say things better in song than we discuss them in person. We've seen terrible things, brilliant things, and beautiful things as a couple. The albums and performances become the canvas that loss, gain, romance, and love are subconsciously painted -- unbeknownst to us, honestly."
"I add intimacy, and he adds fire," exclaims Amanda. "It's important to have both. That's really the balance of what JOHNNYSWIM is."
Like any lasting relationship (whether musical or romantic), that balance didn't crystallize overnight either...
As the story goes, Abner felt love-at-first sight upon seeing Amanda. Immediately, he thought, "That's the girl I'm going to marry." The only problem was he declared it aloud in front of his date (who promptly became his last ex). To add insult to injury, Amanda shrugged him off with an eye-roll as well. Four years passed until their paths crossed again at a 2005 Nashville writing session. The relationship experienced its makeups and breakups before they married in 2009 -- a year removed from the arrival of their self-titled debut EP, JOHNNYSWIM.
Building a fanbase through constant touring, 2013's Heart Beats EP spawned "Don't Let It Get You Down," which clocked 17 million-plus Spotify streams. Their first full-length, Diamonds, arrived in 2014 as its single "Home" famously became the theme to HGTV hit Fixer Upper. The 2016 follow-up Georgica Pond yielded another fan favorite "First Try" as the duo sold out dates around the world. Along the way, they garnered acclaim from Rolling Stone, NPR, The New York Times, Huffington Post, Nylon, Du Jour, and VH1 in addition to performing on The Today Show, CONAN, and more.
In early 2017, JOHNNYSWIM commenced work on ideas for what would become their 2019 third full- length, Moonlight [Britannia Row Recordings/BMG]. Amidst a series of professional changes and Amanda's pregnancy with their second child, they kick-started the next chapter.
"All of the signs pointed towards brand new beginnings and brand new starts," Abner admits. "With all of those feelings, there was anticipation in the air for something fresh. I had produced everything up until this point. We wanted to engage a producer who could free us up to experiment. It all began by anticipating something new. In an unforeseen way, that new thing was working with Malay."
Over the course of the next year, they wrote and recorded with GRAMMY® Award-winning producer and songwriter Malay [Frank Ocean, Sam Smith]. The musicians went from writing in the producer's Brooklyn apartment (where he cooked them a delicious tomahawk steak during their first session) to his new Britannia Row Recordings studio in Hollywood. Ajer recording in home studios throughout their career, the new setting offered the same intimacy as well as a breath of fresh air.
"I was pregnant when we started, and Luna was born in the middle of the process -- which was a first for us," recalls Amanda. "It was a really welcoming environment though. We were all so comfortable. Malay made it so we could just focus on the songs, while he handled recording. We'd build the structures, and he'd put this magic around them like our fairy godfather," she laughs.
That magic carries through all twelve tracks. Opener "Bridges" hinges on echoing guitar and a steady beat as Amanda and Abner belt out the incendiary chant, "Let's burn the bridges down. Light 'em up. Don't turn it around. No escape through the ashes now."
"It felt representative of the album and these days of our life together," explains Abner. "I don't know what's ahead of us, but I'm know I'm willing to burn down everything that's behind us. That's what marriage is. That's what family is. That's committing yourself. When you commit to raising your kids, you burn the bridges to your past self. You're a new person. We're not going backwards. I'm willing to risk everything for what's ahead of us. It's our anthem."
Elsewhere, a stomping groove and delicately plucked acoustic guitar underscore a charismatic and confident send-off on "Say What You Will."
"I wouldn't say anything to my eighteen-year-old self, but I'd say something to those around him who disregarded and downplayed this dream," Abner sighs. "A lot of people are unwilling to take chances. So, they project their fears on you and tell you to stop taking chances. They have to justify the reasons they haven't pursued their dreams or chased a passion. I'd say, 'Do what you need to do, but we're going to be just fine.'"
Then, there's "The Last Time" [feat. Michael McDonald]. Resounding piano keys, lithe guitar, and handclaps resound as Amanda, Abner, and the legendary Michael McDonald lock into an unshakable call-and-response recorded seaside in Santa Barbara.
"It was surreal," smiles Amanda. "Michael's voice is just unbelievable. To record with him was amazing."
"Lyrically, it's our story," says Abner. "The moment I saw Amanda for the first time was the last time I dated anybody else. It's a special one."
The album illuminates the expanse of JOHNNYSWIM's musical palette. "Marietta" gallops from a jazz-y intro into theatrical delivery about Abner leaving his hometown. The finale "Same Old Thing" examines the fragility of marriage and frayed bonds as the lyrics tackle divorces among the pair's friends over listless guitar.
"I love putting it last, because it's a reminder this album isn't about the sweetness of love," Abner says. "It's about the reality of love."
"There's a theme to Moonlight," Amanda elaborates. "It's love, but not the ideal or romance of love. It's all of the things that actually come with loving someone and caring about someone who's not perfect. There's tragedy in it. There's frustration in it. There's joy in it. That's Moonlight."
In the end, JOHNNYSWIM emerge stronger than ever together as a family and a band on Moonlight.
"I'd love for people to hear Moonlight and feel known, seen, and unashamed regardless of where they're at on the spectrum of romance -- whether it's first fast love, making babies, or in the middle of a dream that's falling apart," Abner leaves off. "I want them to feel like we're speaking for them no matter what."
"You can listen to a record and walk away feeling like your spirit is nourished," Amanda concludes. "That's what I want. I hope it marks a time for you and your family, where you can associate these songs with those special moments."
In addition to Abner and Amanda's two toddlers, Joaquin (5) and Luna (2), the couple have just welcomed a new baby girl! Joaquin and Luna are experienced "tour babies," and join their parents as they travel around the world. Being in new cities everyday allows for unique family adventures, which Abner and Amanda aim to portray through the eyes of their children on The Touring Toddler, a blog and Instagram account. @TheTouringToddler showcases everything from travel tips and city guides for toddlers, to recipes and "life hacks." Come fall 2020, the husband and wife duo will also debut their show, "Home on the Road," which premieres on Chip & Joanna Gaines' new network, Magnolia. The show will highlight Abner and Amanda's life as they balance the highs and lows of touring, their two toddlers and brand-new baby, and continue to be one of the most exciting live bands on the road.
Links: Official Website | Facebook | Instagram | Twitter | Spotify
KATELYN TARVER
Katelyn Tarver grew up in Glennville GA, a quiet rural town with a population of just over 3,000 where her family owned a local candy factory. Always a music lover she began performing in local (and soon national) talent competitions, one of which, American Juniors, led to her first national tour and an introduction to management in LA.
She began independently releasing music and working tirelessly as a songwriter – which was rewarded when 'Crazy Stupid Love', a song she had written with Wayne Wilkins, gave Cheryl Cole a UK #1 single.
Fuelled by this success, Tarver worked with Childish Gambino-producer Ludwig Göransson to create 'Weekend Millionaires', her first proper solo single – a pulsating lyrical deconstruction of the American dream. Blog praise and remixes from the likes of Young Bombs, Skizzy Mars and Samuraii followed, helping inspire Tarver to complete what became 2017's 'Tired Eyes EP'. The tear-jerkingly beautiful live rendition of her song 'You Don't Know' caught fire online, being shared by fans and driving the video to over 40 Million YouTube views.
She followed up with 2018's 'Kool Aid EP', a spikey and diverse collection of six songs written with fellow writer/artist contempories like J Hart and Wrabel. Tarver also enjoyed a stint acting alongside Dwayne 'The Rock' Johnson in HBO's Ballers Season 4, playing a fiery extreme sports agent.
In the Fall of 2019, Tarver was chosen by Ryan Tedder, Shane McAnally and Esther Dean as the winner on her NBC Songland episode, with Sony Nashville band Old Dominion releasing her composition 'Young'. To co-incide with the airing of the episode she performed a headline show at the legendary Troubadour in Los Angeles, selling it out. Tarver also starred as lead actress in the Joseph Khan-directed Jeep commercial that featured her song, released the same night the show aired.
New Year 2020 kicked off with the dropping of the infectious 'Heaven', a collaboration with rising producer Sj and released via Congo/SPINNIN' Records.
Next single 'Feel Bad' – releasing March 25th – accompanied with it's stunning video directed by long time collaborator Se Oh, will co-incide with Katelyn hitting the road for a 23 date US tour with Hot Chelle Rae. A new full EP on Snafu Records will arrive this summer alongside other live dates.
Links: Official Website | Facebook | Instagram | Twitter | YouTube