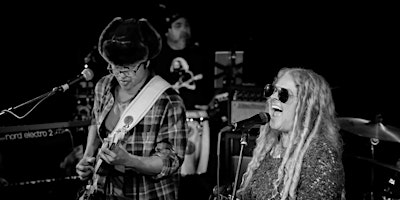 Premier Concerts and Manic Presents:
with RGB
Doors: 7:00 pm | Show: 8:00 pm
All Ages
General Admission Standing Room Only
JEN DURKIN'S STEAL YOUR FUNK
Jen Durkin's Steal Your Funk was born in 2015 when Jen Durkin (Deep Banana Blackout/Mickey Hart-Bill Kreutzman's "Rhythm Devils") , Jordan Giangreco (The Breakfast), and Rob Glassman (RGB) took the concept of mixing funk, motown, disco tunes, basically anything groovin, with the music of the Grateful Dead and Jerry Garcia Band.
The result has been the production of high energy shows, that always leaves audiences dancing, all night long.
Steal Your Funk also always features a well-known cast of jamband musicians, and have performed multiple gigs with Doug Wimbish of Living Colour, the late Dr Charles Neville, Leo Nocentelli of the Meters, Sam Kininger of Soulive/Lettuce, Tim Palmieri of Lotus/The Breakfast/Kung Fu, as well as Adrian Tramontano of Twiddle/Marble Eyes/Kung Fu/The Breakfast, and Chris DeAngelis of The Machine/Breakfast/Kung Fu.
If you are not familiar with Jen "Pipes" Durkin, she was front woman for Grateful Dead's Mickey Hart and Billy Kreutzman"s band, "The Rhythm Devils," after Jerry Garcia passed. The band also featured Mike Gordon (Phish) and Steve Kimock, on an amazing 30 day "Super Group" tour, debuting new songs written by Robert Hunter. In the Summer of 2008, "Pipes" kept on touring in the Mickey Hart Band, with master of funk George Porter, Jr, Walfredo Reyes Jr, and Kyle Hollingsworth
Jenny "Pipes" is also well known for her popular band's of the 90s, which included "The Bomb Squad, and Deep Banana Blackout." Jen and Deep Banana Blackout became a regular act at the Gathering of the Vibes.
Jen Durkin's Steal You Funk shows consist of just about anything swinging and swaying. Their performances create a unique interactive vibe with the audience, where the groove is always on high with Jen Durkin's Steal Your Funk,and always brings along a well-known cast of talented musicians, and special guests.
RGB
RGB is a well-known classic rock jamband, with thousands of followers and fans all over New England, and the US. RGB was also listed, in 2022, by the CT Post, and other CT publications, as one of the top 6 classic rock cover bands in CT. We are also excited about the release of our 12 song cd in Spring 2023 with special guests Sam Kininger (Lettuce/Soulive), Jen Durkin, Scott Guberman, Jordan Giangreco, Chris D'Amato,John Spignesi, and Geoff Wadhams.
RGB performs regularly at dozens of breweries, restaurants, music venues, fairs, and big festivals, all over CT, NE, and NY. We perform electric as a 4-5 piece band, or also as RGB Acoustic Trio, and/or Quartet. Whether Acoustic or Electric, we continue to draw and engage audiences with shows that are always entertaining and energy-filled.
Links: Official Website | Facebook | YouTube