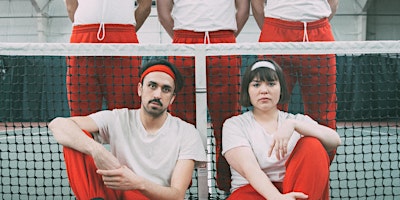 Premier Concerts and Manic Presents:
with Pons, The Fiction Kids
Doors: 7:00 pm | Show: 8:00 pm
Min. Age: 21+
FEVER DOLLS
Fever Dolls is the shape-shifting, label-defying project of producer-songwriter Evan Allis. Founded in 2018 with singer Renn Mulloy, Fever Dolls was born out of a desire to forego the self-seriousness of indie rock in favor of big hooks, clever lyrics, and broad musical range. Reflecting the highs and lows of modern life, Fever Dolls's sound draws on everything from country folk to heavy metal to present a catalog of material as diverse and varied as its audience.
2020's The Phantasm at Lake Wallenpaupack EP, produced by Paul Kolderie (Hole, Radiohead), showcased Fever Dolls' hit-making sensibilities while continuing to push listeners' expectations of what a single musical act could be, with Vox's Emily Van Der Werf remarking "Fever Dolls (and songwriter Evan Allis) seem to borrow from an entirely new set of artistic influences on each and every track, while still sounding like themselves."
Links: Official Website | Facebook | Instagram | Twitter | Spotify
THE FICTION KIDS
The Fiction Kids are a band unstuck in time. They occupy a post-punk niche nestled between shoegaze and goth rock that's both nostalgic and fresh, replete with rollicking guitar anthems. They are fronted by Rama Kooks, a veteran writer and performer who's been playing since his teens in Jakarta. After moving to the US, he toured with bands like Fan-Tan and The Dearloves.
Rama is joined by a rhythm section featuring Alexa Ambrose (Fugue, Laundry Day), and J Thompson (Quiet Giant, Field Recordings). Since their inception in 2018 this trio has played with artists like Future Islands, Pile, and Dehd. In 2019 they released their debut album, Souvenir. Souvenir is a diverse collection of songs written rapid fire over the last two years and produced by former TFK bassist Sam Carlson at Sans Serif Recording.
Their music is comes from a shoegaze meets post-punk approach to their songwriting and floats between pop and noise from song to song.
Links: Official Website | Facebook | Instagram | Spotify