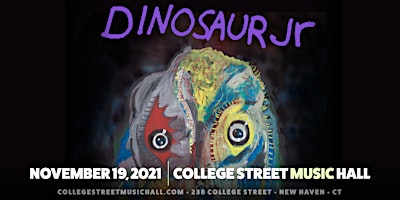 Presented ByPremier Concerts and Manic Presents:
with Ryley Walker
Doors: 7:00 pm | Show: 8:00 pm
All Ages
College Street Music Hall
New Haven, CT
This event is General Admission Standing Room on the Floor. There will be limited first-come, first-served seating available in the back.
COVID-19 Vaccination (14 days past second shot) OR proof of negative COVID-19 PCR test (received within the past 72 hours) required for entry. If vaccinated, please bring your vaccination card or clearly legible photo of your vaccination card on your phone and a valid photo ID. If unvaccinated please bring printed or digital proof of your recent negative PCR test. Masks are required for all ticket holders and staff despite vaccination status. You may pull your mask down when eating or drinking only. These policies will remain in place until further notice.
To present proof of vaccination and/or negative PCR test results on your phone, we've partnered with Bindle, a digital health platform that is secure, easy to use and completely anonymous; your personal health information is never shared and your biometrics are not required. Visit the App Store or Google Play Store and search for MyBindle. Set-up is free and simple. If you are unable to provide digital proof, physical proof is also accepted.
DINOSAUR JR.
Here is Sweep It Into Space, the fifth new studio album cut by Dinosaur Jr.. during the 13th year of their rebirth. Originally scheduled for issue in mid 2020, this record's temporal trajectory was thwarted by the coming of the Plague. But it would take more than a mere Plague to tamp down the exquisite fury of this trio when they are fully dialed-in. And Sweep It Into Space is a masterpiece of zoned dialing.
In the decades since the release of Dinosaur Jr.'s original triptych of foundational albums, it has become clear that their sound -- once hailed as a sort of almost-tamed noise -- is/was/always-has-been fully functioning pop music of a sort. The subsequent generations of bands who grew up breathing Dino's fumes managed to tinker around with the edges of their original post-hardcore song-forms enough for listeners to realize there had always been melodies at the center of everything they did. What Dinosaur Jr.. produces is nothing but a beautiful new version of the rock continuum -- riff, power, beat and longing, created with an eye on the infinite future.
Recorded, as usual, at Amherst's Biquiteen, the sessions for Sweep It Into Space began in the late Autumn of 2019, following a West Coast/South East tour. The only extra musician used this time with Kurt Vile.
J Mascis says, "Kurt played little lead things, like 12 string one at the beginning of 'I Ran Away.' Then I ended up just mimicking a few things he'd done. I was listening to a lot of Thin Lizzy, so I was trying to get some of that dueling twin lead sound. (laughs)"
"But the recording session was pretty well finished by the time things really hit the fan. So I just ended up doing more things by myself. Like the mini digital mellotron on 'Take It Back.' Originally I'd thought I'd have Ken Mauri (who has done keyboard work for Dino in the past) come in and play piano. But when the Lock Down happened in March, that meant I was on my own. But it was cool."
Indeed, Sweep It Into Space is a very cool album. As is typical, Lou Barlow writes and sings two of the album's dozen tunes and Murph's pure-Flinstonian drumming drives the record like a go cart from Hell. Lou's songs here are as elegant as always. "Garden" is a mid-paced ballad with genteel guitar filigree giving it a '60 Brit feel in spots. And the album's closer, "You Wonder," is a strangely excellent answer to the question -- "How would Blue Oyster Cult handle a country tune?"
J's tracks flow and flower in the different directions he often follows. Some are guitar howlers, like "I Met the Stones," with a string sound midway between Hendrix and Asheton. Some are power ballads, like "And Me," its lyrics atomized in a manner invented by Mascis, then famously borrowed by Kurt Cobain. And there are anomalies, like "Take It Back," which starts with a blue-beat rhythm putting one in mind of Keith Richards' Jamaican explorations (at least for a little bit.)
But there are very few moments where you wouldn't know you were hearing Dinosaur Jr. in blindfolded needle drop. They have a signature sound as sure as the Stooges or Sonic Youth or Discharge ever did. They continue to expand their personal universe with Sweep It Into Space, without ever losing their central core.
So if you ever do find yourself swept into space (hey, who knows?), I just hope these tunes are on your playlist.
--Byron Coley
Links: Official Website | Facebook | Instagram | Twitter | Spotify
RYLEY WALKER
Ryley Walker currently resides in New York City. But his latest LP is a Chicago record in spirit. The masterful Course In Fable, the songwriter's fifth solo effort, draws from the deep well of that city's fertile 1990s scene, when bands like Tortoise, The Sea and Cake and Gastr del Sol were reshaping the underground, mixing and matching indie rock, jazz, prog and beyond.
Walker spent his formative years in Chicago, absorbing those heady sounds and finding ways to make them his own. Even though he emerged at first in folk- rock troubadour mode, it makes sense that he's arrived at this point; each LP has grown more intricate and assured, his influences distilling into something original and unusual. To put it simply: Course In Fable is Walker's best record yet, full of active imagination and endless possibilities.
Last October, Ryley went straight to one of the primary architects of the Chicago sound to make the LP. John McEntire, Course In Fable's producer/engineer/ mixer, can rightly be called a legend for his work with Tortoise, Stereolab, The Red Krayola, Jim O'Rourke and countless others over a prolific career that now spans more than three decades. Seeing his name in an album's liners is pretty much a trademark of quality.
Another Windy City exile, McEntire is based on the west coast these days, working out of the Portland, OR studio he's dubbed Soma West. On the seven songs here, he delivers the signature shimmering and pristine sonics he's become known for over the years. But McEntire was also intimately involved with Course In Fable's overall creative process. "I told him to take the mixes and have at it," Walker says.
The result is a rich, immersive affair — a headphones record if ever there was one. Course In Fable's songs are twisty, labyrinthine things, stuffed full of ideas (Walker half-jokingly calls it his "prog record"). But no matter how complex it gets, the album is never overwhelmingly busy. Wiry guitars melt into gorgeous string sections (arranged by Douglas Jenkins of the Portland Cello Project). Tricky time signatures abound but feel as natural as can be. Melodies open drift in unexpected directions but remain downright hummable. Like Walker's beloved Genesis, the pop element is never too far from the surface even when shit gets weird. (And speaking of weird, Ryley says that in addition to Genesis, much of the album's inspiration comes from "Australian extreme scooter riders on YouTube and balding gear heads on Craigslist." Go figure.)
To help put together these various puzzle pieces, Ryley assembled a band made up of several longtime collaborators. Bill MacKay (another Chicago mainstay) and Walker have made two excellent instrumental duo records of interlocking guitars and warm give-and-take — a rapport very much in evidence throughout Course In Fable. The freakishly talented drummer Ryan Jewell has performed with Walker for years now in a variety of settings, from straight forward song-centric sets to blown-out improv extravaganzas. Bassist Andrew Scott Young (Tiger Hatchery, Health&Beauty) has logged many miles on tour with Walker; he and Jewell are frequently astonishing, a buoyant-but-always-locked-in rhythm section, able to navigate sometimes dizzying turnarounds with apparent ease. Listening to the interplay between Walker and these musicians and you might be fooled into thinking they'd spent a year road- testing Course In Fable's songs. But it all came together relatively fast, thanks to demos, rehearsals and the kind of musical empathy that comes from years of playing together.
Beneath the wondrous interplay, you'll find some of Walker's most personal – if still typically cryptic — lyrics, hinting at some of the trials the songwriter has been dealing with in recent years. Balanced with necessary doses of dark humor and oddball poetry, Course In Fable feels most of all like a life-affirming record, fresh air in the lungs, sun on your skin. "Fuck me, I'm alive," Ryley sings at one point, a moment of both disbelief and pure joy.
Walker has released his albums on a who's-who of independent labels over the past decade — Tompkins Square, Dead Oceans, Thrill Jockey and Drag City among them. This time around, he's doing it DIY-style, putting Course In Fable out on his own Husky Pants imprint. You're in good hands. This is an album that sounds great (mastered by Greg Calbi), looks great (artwork by Jenny Nelson and design by Michael Vallera). It probably even smells great. Whether you've been onboard since the beginning or are new to the Ryley Walker universe, you're in for a treat.
Links: Official Website | Facebook | Twitter | Spotify