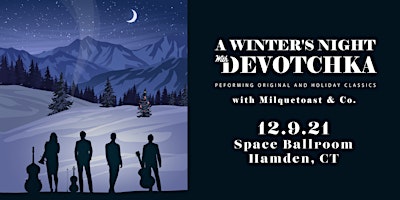 Presented ByPremier Concerts and Manic Presents:
with Milquetoast & Co.
Doors: 7:00 pm | Show: 8:00 pm
All Ages
Space Ballroom.
Hamden, CT
General Admission Standing Room Only
COVID-19 Policy
COVID-19 Vaccination (14 days past second shot) OR proof of negative COVID-19 PCR test (received within the past 72 hours) required for entry. If vaccinated, please bring your vaccination card or clearly legible photo of your vaccination card on your phone and a valid photo ID. If unvaccinated please bring printed or digital proof of your recent negative PCR test. Masks are required for all ticket holders and staff despite vaccination status. You may pull your mask down when eating or drinking only. These policies will remain in place until further notice.
To present proof of vaccination and/or negative PCR test results on your phone, we've partnered with Bindle, a digital health platform that is secure, easy to use and completely anonymous; your personal health information is never shared and your biometrics are not required. Visit the App Store or Google Play Store and search for "My Bindle." Set-up is free and simple. If you are unable to provide digital proof, physical proof is also accepted.
DEVOTCHKA
A cross-pollination of numerous influences, including cabaret, spaghetti Westerns, norteño, punk, and the immigrant dance music of Eastern Europe, Colorado-based quartet DeVotchKa, formed in Denver by multi-instrumentalists Nick Urata (vocals, guitar, trumpet),
Tom Hagerman (violin, accordion), Jeanie Schroder (sousaphone, bass) and percussionist Shawn King, emerged as unlikely indie heroes in the mid-2000s infusing modern indie music with a global flavor.
They found widespread success in 2006 with their Grammy-nominated soundtrack to the hit indie film Little Miss Sunshine. Signing with revered indie, Anti-, the band delivered A Mad and Faithful Telling in early 2008, reaching the number nine slot on the Billboard Heatseekers chart. A lengthy world tour followed, including stops at major festivals like Bonnaroo, Lollapalooza, and Bumbershoot. After doing more soundtrack work, this time for the 2009 comedy I Love You Phillip Morris, the group returned to the studio for 2011's moody and triumphant 100 Lovers. Embarking on another world tour, they collaborated with the Colorado Symphony on the 2012 concert album Live with the Colorado Symphony. Over the next several years, Urata became increasingly involved in his own film composition career, scoring movies like Crazy Stupid Love, Whiskey Tango Foxtrot, Paddington, and the Netflix series A Series of Unfortunate Events. Meanwhile, the band regrouped for a lengthy recording session, eventually returning in 2018 with their sixth album, This Night Falls Forever, this time via Concord Records.
Links: Official Website | Facebook | Twitter | Instagram | Spotify
MILQUETOAST & CO.
Calling itself Milquetoast & Co. (pronounced milk toast and company), this Denver-based sextet mingles high-intensity, angular elements of Americana with equal parts rock and blues and a touch of pomp and pageantry. Their songs tell the tales of life; embracing the joy and sorrow of complex human relationships while tipping a well-tailored cap to the moments of beauty and irreverence we all share. Originally based in Boston, Milquetoast & Co. self-released three albums prior to parting ways for a series of "it seemed like a good idea at the time" reasons, from parenthood to world travel. Waiting for the time and circumstances to be right, the band re-established itself, deep in the heart of the Rockies. Now, with a fully re-formed lineup, Milquetoast & Co. are picking-up where the love affair left off.
Links: Official Website | Facebook | Twitter | Instagram | Spotify