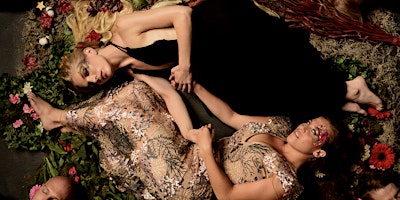 Presented ByPremier Concerts and Manic Presents:
with Wyn Starks, Carrie Welling
Doors: 7:00 pm | Show: 8:00 pm
All Ages
Space Ballroom.
Hamden, CT
General Admission Standing Room Only
COVID-19 Policy
COVID-19 Vaccination (14 days past second shot) OR proof of negative COVID-19 PCR test (received within the past 72 hours) required for entry. If vaccinated, please bring your vaccination card or clearly legible photo of your vaccination card on your phone and a valid photo ID. If unvaccinated please bring printed or digital proof of your recent negative PCR test. Masks are required for all ticket holders and staff despite vaccination status. You may pull your mask down when eating or drinking only. These policies will remain in place until further notice.
To present proof of vaccination and/or negative PCR test results on your phone, we've partnered with Bindle, a digital health platform that is secure, easy to use and completely anonymous; your personal health information is never shared and your biometrics are not required. Visit the App Store or Google Play Store and search for "My Bindle." Set-up is free and simple. If you are unable to provide digital proof, physical proof is also accepted.
DELTA RAE
Six-piece band Delta Rae hails from Durham, NC. Liz Hopkins and Brittany Holljes front the robust group with sultry harmonies rounded out by Holljes' brothers Eric (vocals, piano) and Ian (vocals, guitar) as well as Mike McKee (drums) and Grant Emerson (bass). The band chose their moniker from a mythical story the Holljes siblings' mother wrote about a Southern girl of the same name who summons the Greek gods to earth. Headlining over 100 shows each year and a regular on the festival circuit since forming in 2009, Delta Rae's larger-than-life performances have earned coveted spots at Bonnaroo, Tortuga Music Festival, Austin City Limits, Hangout Fest, VOODOO and Lollapalooza. They have received national attention with features in NPR, Washington Post and New York Times in addition to multiple late night performances and inclusion in Forbes' 30 Under 30 list.
Links: Official Website | Facebook | Twitter | Instagram | Spotify
WYN STARKS
Wyn Starks is a pop vocalist originally from Minneapolis, whom wants to inspire passion, acceptance, and love through his fun and timeless music. His debut song, "Circles," which releases everywhere July 19, 2019, shows off the singer's tremendous vocal range and abilities. "Circles is about finding love," shares Wyn, whose style has been described as Sam Smith meets The Weeknd meets Leon Bridges. "It could be a friend who's been there all along. Or finding someone you realize you were destined to be with. Honestly, I wrote 'Circles' when I was having a bad day. I was venting to my friend Fred, and he was like, 'Come over and let's write a song.' I love songs that come out of struggle; they mean so much more. Those songs resonate with me on another level."
Links: Official Website | Facebook | Twitter | Instagram | Spotify
CARRIE WELLING
No stranger to change or the exploration that comes with it, Carrie Welling has been navigating life's twists, turns, demons, and discoveries from a young age. A self-described 'military brat', Welling's struggle to feel rooted in any one place carved a unharmonious path of heartbreak, doubt, and insecurity that defined her 20s and early 30s… a journey that lead to her soul-defining rebirth as an international touring artist with a place to call home in Nashville, TN.
Her bold, sultry voice, reminiscent of Sheryl Crow's grit, Natalie Maines' twang, and Stevie Nicks' heart, is upstaged only by the genuine love and connection this natural performer has with her fans both on and off stage. But embracing confidence has not always been easy for this singer-songwriter, who speaks candidly about her battle to be good to herself, and to quiet the inner voice nagging her to be "perfect". Through the process of creating her latest work, a collection of songs that encapsulate Carrie's determination to embrace self-love, self-care, and leave the past behind, she's found a place of peace and healing, recognizing that authenticity and vulnerability is the glue that binds us all.
In 2018, a few years after the release of her first solo EP, The Edge, Welling put out a Patreon campaign, embracing her dream to finally quit the side hustle and focus on music full-time. Her patrons, which Carrie refers to as her "champions", have proven to be an integral part of the artist's journey - not only supporting her online but also at live performances across the globe. "My Patreon champions started out as my fans and now we're all friends. Some of them I talk to everyday, and they give me music ideas! They keep me going," she says, reflecting on the creator-founded platform. [Join the Patreon Family HERE!]
Melodies rich in folksy, Americana roots, paired with empowering, honest lyrics are stunningly showcased in Welling's forthcoming, full length album High Heels and Heavy Things. Created in a home studio in Nashville with purely organic instruments, this raw and vulnerable record was produced by Eric Holljes (Delta Rae) and features songs co-written by the talented likes of Holljes, Mary Bragg, Alex Wong, and Matt Zavala.
High Heels and Heavy Things has been a long time labor of love since its conception in 2015, to its birth in 2020. In between studio sessions Carrie took to the stage, opening for notable artists such as Delta Rae and David Cook, and performing at popular music festivals including the the Island Hopper Music Festival (Ft. Meyers, FL). She'll be a featured artist at the "Songwriters Island Showcase" at Island Hopper Music Festival (Isla Mujeres, Mexico) in May 2021, and is scheduled to embark on an international tour through Germany and the Netherlands in Spring of 2021. In the interim she's logged countless hours on the road, performing at venues and house concerts across the US, as well as an international tour through Germany and The Netherlands.
High Heels and Heavy Things is available on iTunes and Spotify worldwide. For upcoming tour dates, behind the scenes updates, and record release info, please subscribe to Carrie's mailing list or become a member of her Patreon family.
Links: Official Website | Facebook | Twitter | Instagram | Spotify