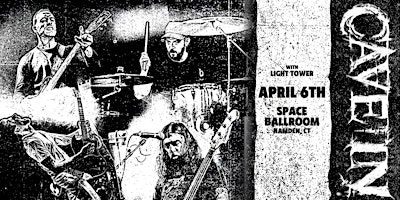 Premier Concerts and Manic Presents:
with Light Tower
Doors: 7:00 pm | Show: 8:00 pm
All Ages
General Admission Standing Room Only
CAVE IN
To many observers, it looked like Cave In's 2019 album, Final Transmission, was exactly what its title indicated. After all, the band's bassist and dear friend Caleb Scofield had passed during the record's early stages. They finished it with the help of another dear friend—Nate Newton of Converge/Old Man Gloom/Doomriders—but it still felt like the end of an era.
Which brings us to the brand-new Cave In album, Heavy Pendulum. Featuring Nate Newton on bass and backing vocals alongside original members Brodsky, Adam McGrath (guitar/vocals) and JR Conners (drums), it's Cave In's first proper studio recording since 2009's Planets Of Old. "When we began working on the songs that became Final Transmission, the goal was to finish that stuff in a studio," Brodsky explains. "Caleb was very specific about wanting to do that. In a way, this is doing his vision justice—finally getting into a studio to make another Cave In record."
Recorded with Kurt Ballou at God City in January and August of 2021, Heavy Pendulum also marks the first time Cave In has worked with the famed producer and Converge guitarist since the band's beloved 1998 debut, Until Your Heart Stops. "It's also Cave In's first recording at the current God City location," Brodsky points out. "We recorded Until Your Heart Stops at the original God City in Allston, MA. What's crazy is that we've all recorded at the Salem location with our other bands many times, but never all together."
Links: Official Website | Facebook | Twitter | Instagram | Spotify
LIGHT TOWER
Featuring Chris Enriquez of: ON THE MIGHT OF PRINCES, SPOTLIGHTS, and GRACER. A new collaborative project led by Enriquez is a dark and deeply personal account of his personal experiences, delivered with his immense talent. Light Tower combines elements of shoegaze, post-hardcore, and emo, but offers something very unique that will strike a flame with fans of the genres.
Links: Official Website | Facebook | Twitter | Instagram | Spotify