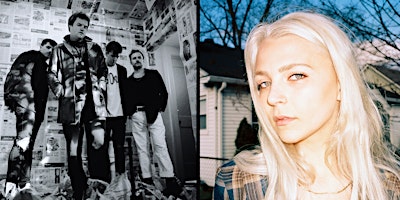 Premier Concerts and Manic Presents:
w/ Secondhand Sound
Doors: 7:00 pm | Show: 8:00 pm
All Ages
Space Ballroom (Front Room)
Hamden, CT
General Admission Standing Room Only
COVID-19 Policy
Masks are strongly encouraged.
By purchasing tickets to this event, you agree to abide by the State of CT, City of Hamden, Artist, and Space Ballroom's Health and Safety measures in effect at the time of the event. Check back for updates to your event on our website as guidelines and entry requirements are subject to change.
BETCHA
We're Nashville-based alternative rock band Betcha made up of four college best friends, Ben Booth (lead guitar), Taylor Dubray (bass, keys), Chase Wofford (drums) and Charlie Greene (vocals, guitar). What started as casual late night jams, has turned into tours all over the country with acts like The Band CAMINO, KALEO & Matt Maeson. After spending most of 2021 hunkered down in their basement studio, the band is preparing to follow up their first independent releases "GREY SKIES" and "5AM" with multiple nation-wide tours and a year full of new music in 2022.
Links: Official Website | Facebook | Twitter | Instagram | Spotify
SAVANNAH CONLEY
Raised in Nashville by a background singer mother and session guitarist father, Savannah Conley's musical education was deeply ingrained from a young age. She started performing at the age of seven and by nineteen she was taking home the John Lennon Songwriting award. Her debut EP, Twenty Twenty, was produced by Grammy Award-winning producer Dave Cobb (Brandi Carlile, Jason Isbell, John Prine) and released in 2018 to critical acclaim from Rolling Stone, NPR, Ones To Watch, and Refinery29. Rolling Stone praised the EP as an "emotionally rich collection of tracks full of moody instrumentation and whip-smart lines" and named Conley as one of their 'Artists You Need To Know.'
If you've ever wondered what the sonic lovechild of Oasis and Dolly Parton would sound like, look no further than Savannah Conley. Combining nostalgic musicality, unavoidable Southern charm, and a healthy dose of cross-genre inspiration, Conley has carved out a sound that feels both fresh and timeless. Her ability to transcend genre boundaries has led to an impressive resume of gigs supporting Ben Folds, Brandi Carlile, The Head and the Heart, Willie Nelson, and Ruston Kelly, just to name a few. As NKD Magazine once aptly put it, Conley's music "sounds how a worn-in vintage jacket feels."
Links: Official Website | Facebook | Twitter | Instagram | Spotify
SECONDHAND SOUND
Secondhand Sound is a curated collective of indie music, infused heavily with alternative rock. The band elevates modern instrumental sound with interpolated, ironic, and alluring songwriting. After meeting in college in the fall of 2018, the members officially formed Secondhand Sound and actualized their mission of becoming the biggest band in the world.
The Nashville-based band is coming off of their first national headline tour, performing their debut album, "The Best and Worst of Times." Secondhand Sound complements their discography with inventive visual mediums, including the manifestation of the band's spirit, the elusive and contemplative Stranger.
Armed with the inspiration of energizing humanity, Secondhand Sound reigns audiences in with their elevated coming-of-age aesthetic. Grounded by their loyalty and reverence to the process, Secondhand Sound is immersed in maturing the style they've nurtured as they prepare to shift into high gear and release their third EP in the fall of 2022.
Links: Official Website | Facebook | Twitter | Instagram | Spotify