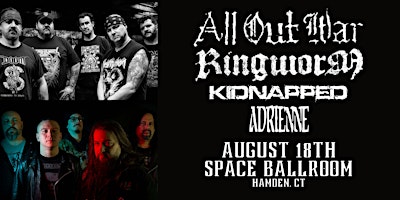 Seventh Circle, Premier Concerts, and Manic Presents:
with Kidnapped, Adrienne
Doors: 6:30 pm | Show: 7:30 pm
All Ages
General Admission Standing Room Only
COVID-19 Policy
Masks are strongly encouraged.
By purchasing tickets to this event, you agree to abide by the State of CT, City of Hamden, Artist, and Space Ballroom's Health and Safety measures in effect at the time of the event. Check back for updates to your event on our website as guidelines and entry requirements are subject to change.
ALL OUT WAR
For over two decades All Out War has been unleashing their punishing brand of metallic crossover aggression. Throughout All Out War's long history they have always ridden the fervid line between savage intensity and expertly executed heaviness allowing the band to maintain a powerful presence in both the metal and hardcore worlds. This brutal combination affirms the band's standing as one of the most devastating units in underground music.
Through a consistent stream of uncompromising singles, EPs, and LPs the band has been evoking chaos and sonic brutality upon the masses. They've defied convention, choosing to instead forge their own path on records like their seminal 1998 release, For Those Who Were Crucified, which set a new standard of what a metal and hardcore hybrid could be.
For Those Who Were Crucified may have achieved a new level of aggression in the underground, but it was just the beginning for All Out War. In the time since, they've released six punishing full-lengths and in addition they have been a part of vicious tour packages that are considered legendary by today's standards. This arsenal of recorded misanthropy and waves of touring has led to the band's reputation as a well-respected staple for metal and hardcore fans worldwide as they continue to spit in the faces of the close-minded in both hardcore and metal circles. All Out War have always been a band that defies genre barriers and refuses to fall in with the herd.
RINGWORM
Ringworm erupted in Cleveland in 1989 as an integral part of the city's hardcore scene. They joined bands like Integrity in a brutal musical community that blended purist hardcore with heavy metal influences and punishing live shows. They played constantly for four years all over Ohio and West Virginia, securing a rabid fan base who embraced their 1991 self-titled demo and bolstered their reputation among the thrash underground in the continental U.S. Their debut full-length Promise appeared in 1993 on Incision, and garnered enough interest to tour the U.S., following the release with several singles that cemented their reputation, even as they transitioned toward thrash metal. They have pursued this direction – without forsaking their hardcore roots – ever since.
After the inevitable round of lineup changes throughout the decade, the band went on hiatus, re-emerging in 2001 with Birth Is Pain on Victory, where they remained through 2005's effort Justice Replaced by Revenge. Touring between albums became even more difficult as vocalist Human Furnace (aka James Bulloch, the band's only permanent member) started a chain of tattoo shops called 252 Tattoo, while guitarist Frank Novinec joined Terror, precipitating another break. They reunited for 2011's Scars with a new lineup.
Links: Official Website | Facebook | Instagram | Spotify