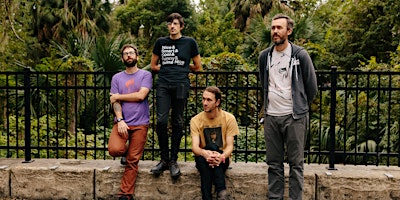 Presented ByKnife Man 10th Anniversary Tour
‏‏‎ ‎
Doors: 1:00 pm | Show: 2:00 pm
Min. Age: 12+
Space Ballroom.
Hamden, CT
General Admission Standing Room Only
COVID-19 Policy
COVID-19 Vaccination (14 days past second shot) required for entry. Please bring your vaccination card or clearly legible photo of your vaccination card on your phone and a valid photo ID. Masks are required for all ticket holders and staff despite vaccination status. You may pull your mask down when eating or drinking only. These policies will remain in place until further notice.
Children under the age of 12 who are not able to be vaccinated will not be permitted.
To present proof of vaccination on your phone, we've partnered with Bindle, a digital health platform that is secure, easy to use and completely anonymous; your personal health information is never shared and your biometrics are not required. Visit the App Store or Google Play Store and search for "My Bindle." Set-up is free and simple. If you are unable to provide digital proof, physical proof is also accepted.
AJJ
Phoenix, AZ based desert trash pioneers AJJ will be embarking on a run of shows to celebrate the 10 year anniversary of Knife Man this fall. Released in 2011, Knife Man saw the band expand into a bigger, more electric sound, and includes fan favorites and live staples such as "Big Bird". AJJ will be performing (most of) the album, as well as other songs from their fifteen plus year career.
Links: Official Website | Facebook | Twitter | Instagram | Spotify
GLADIE
Begun in the late 2010s as a side project by former Cayetana leader Augusta Koch, Gladie is an indie rock band from Philadelphia whose introspective guitar pop carries undertones of '90s indie and lo-fi experimentation.
Following 2017's New Kind of Normal, the second album by Koch's acclaimed Philly punk trio Cayetana, the singer/songwriter began playing a series of low-key solo shows during which she worked out several new songs that were intended for a new project. Working with collaborator and multi-instrumentalist Matt Schimelfenig, she recorded the 2018 EP Everyone Is Talking But You and began playing live shows with the newly formed Gladie. Announcing Cayetana's indefinite hiatus the following year, Gladie got to work on a full-length release, which they recorded at Koch's own studio, the Bunk. Joined by bassist Ian Farmer and drummer Pat Conaboy, the four-piece band issued their debut album, Safe Sins, in February 2020.
Links: Official Website | Twitter | Instagram | Spotify