The Front Bottoms – Tickets – South Farms – Morris, CT – November 5th, 2020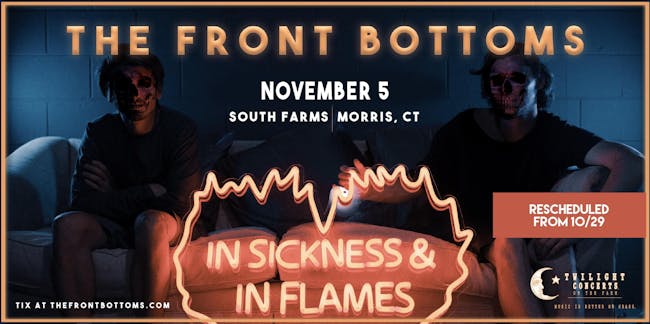 Twilight Concerts On The Farm
The Front Bottoms
South Farms
Morris
,
CT
This is a socially distanced LIVE event with a Reserved General Admission Grid set up (2 people max allowed in grid).
CLICK HERE for a full list of guidelines, protocols, and FAQ.
Social distancing guidelines will be strictly enforced for the safety of patrons, staff and artists.
Event is Rain or shine, no outside food or beverage.
THE FRONT BOTTOMS
Comprised of guitarist/vocalist Brian Sella and drummer Mathew Uychich, The Front Bottoms have gripped listeners and press around the world with their ragged honesty and emotional urgency. The New Jersey based band's 2017 LP, GOING GREY, arrived to critical acclaim with lead single "Peace Sign" breaking into the Alternative Radio charts. GOING GREY is highlighted by a string of celebrated singles, among them "Vacation Town," "Everyone But You," and "Raining," which NPR avowed as "…brutally honest, witty and confessional…" adding, "The group's heart and humor shine… ." The FADER declared, "The Front Bottoms make memorable sing-a-longs that call back to a different, simpler, sadder era of confessional guitar music" with Stereogum praising the new music as, "grand and reflective and damn near arena-ready." "…Submit to the awesome power of The Front Bottoms" stated VICE, while A.V. Club professed, "The Front Bottoms are more confident, and secure enough to confess to all they don't yet know. It's a privilege to listen in as they work it out."

Following the release of GOING GREY, The Front Bottoms shared standalone single, "End of summer (now I know)," followed by Ann, the 2nd installment of their Grandma Series EPs. The six-track collection featured five new recordings of never before released fan favorite songs as well as the brand-new track, "Tie Dye Dragon." The band also joined forces with Manchester Orchestra on the collaborative track, "Allentown," and released a cover of Kevin Devine's "Just Stay" as part of his Devinyl Splits releases.

Links: Official Website | Facebook | Twitter | Instagram | Spotify

Venue Information:
South Farms
21 Higbie Rd

Morris, CT, 06763