Tedeschi Trucks Band: Wheels of Soul 2022 – Tickets – Westville Music Bowl – New Haven, CT – July 6th, 2022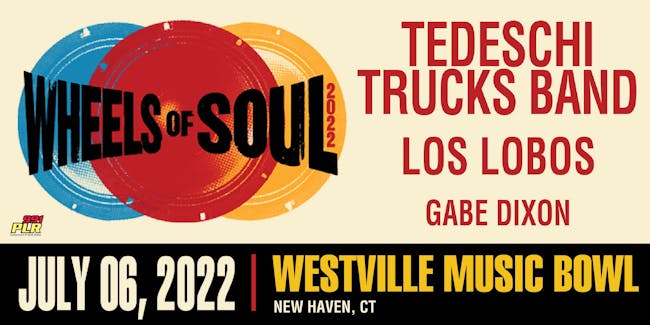 With Los Lobos & Gabe Dixon
Tedeschi Trucks Band
Los Lobos, Gabe Dixon
Westville Music Bowl
New Haven
,
CT
​
This event is fully reserved seated on the Floor and in the Bowl. Rain or shine event, no outside food or beverage allowed.
***In the interest of public health, Tedeschi Trucks Band has postponed their 7/17 /21 show until July 6, 2022 (originally scheduled for 7/18/20). Hold onto your tickets as they will be honored for the rescheduled date.***
TEDESCHI TRUCKS BAND
Tedeschi Trucks Band carries a distinguished reputation as one of the premier live bands performing today - and they show no signs of slowing down as they head into their tenth year together. Led by Derek Trucks' stinging fretwork and Susan Tedeschi's naturally stunning, emotive vocals and guitar talents, the 12-member strong collective continues to expand musical boundaries in ways that only a rare caliber of musician can achieve.
When Derek and Susan decided to suspend their successful solo careers and join forces back in 2010, they were determined to do something different. With an original cast of eight band members, they loaded up two tour buses and hit the road. The nation's economy was heading into recession. The popular music landscape was filled with technological theatrics and auto-tuned singers. And here were TTB with a sound that defied conventional genre boundaries or traditional labels; a gypsy caravan on the rock-and-roll highway. To call it ambitious was an understatement.
In pursuit of their ideal sound driven by world class musicianship, Derek and Susan put together a musical collaborative like no other, flying in the face of any practical or economic considerations. There have been evolutionary changes to the band along the way, but the current line up includes the freight-train force of veteran drummers J.J. Johnson and Tyler Greenwell, long-time Derek Trucks Band member Mike Mattison, with his dynamic vocal and songwriting skills, Brandon Boone (bass guitar), Gabe Dixon (keyboards), the three-piece horn section of Kebbi Williams (saxophone), Ephraim Owens (trumpet), and Elizabeth Lea (trombone), and Mark Rivers and Alecia Chakour on vocal duties with Mattison. In February 2019, original band member and brilliant multi-instrumentalist Kofi Burbridge passed away, leaving an indelible mark on TTB's spirit and sound.
On the road for upwards of 200 days a year, the TTB family has grown strong, bonding over sold-out multinight residencies, backyard BBQs and long bus rides, all the while developing a growing repertoire of original material and paying homage to an extensive canon of influences ranging from Sly & the Family Stone, Miles Davis and George Jones to Joe Cocker, Nina Simone, and even Indian sarod master Ali Akbar Khan. Embracing improvisation over convention, the collective is adept at exploring almost any musical territory and never play the same set list twice.
The genuine respect within its ranks is evident on stage. Derek's masterful guitar skills and Susan's soaring vocals and bluesy guitar shine but don't overpower the breadth of talent, happily yielding the spotlight as needed in service of what the song deserves.
TTB's most recent studio album, Signs, is a powerful, introspective record that exemplifies the group's evolving depth of songwriting and musicianship. Called "an inspirational album for the times" by the Associated Press, Signs is dedicated to several past mentors of the band – including Colonel Bruce Hampton and Derek's uncle Butch Trucks – and is sadly the final album to feature Kofi Burbridge who passed away on the day of the album's release in February of this year. Signs follows Live From The Fox Oakland (2017), a Grammy-nominated film/audio release that added to a quartet of critically-hailed and commercially successful albums: the Grammy-winning debut, Revelator (2011), Made Up Mind (2013), and Let Me Get By (2016).
Links: Official Website | Facebook | Instagram | Twitter
LOS LOBOS
Los Lobos is unlike any other band, so it's not surprising that the group's first-ever Christmas album – Llegó Navidad – would break the holiday-album mold too.
Instead of relying on over-played seasonal standards for its latest album, the band, along with some friends, started out by researching and collecting nearly 150 different traditional (and not-so-traditional) Christmas songs from North, Central and South America. After narrowing down the list to 11 songs – and then adding their own original to the mix – David Hidalgo, Louie Perez, Cesar Rosas, Conrad Lozano and Steve Berlin recorded them on their home turf in East Los Angeles.
The band set out to sing new life into these old songs and make the kind of fresh and vital holiday album that only Los Lobos could make. You've probably never heard 10 of the songs ("Arbolito de Navidad" and "Regalo de Reyes"); one you've absolutely heard ("Feliz Navidad"); and one you've definitely never heard ("Christmas And You") – which was written especially for the album.
Llegó Navidad opens with Rosas singing "La Rama" (the branch), a lively song played in the regional folk style known as son jarocho, which is popular in the Veracruz region of Mexico. La Rama is also the name of the traditional Mexican holiday custom where the community adorns branches from a tree and displays them in a nightly procession through the neighborhood.
Hidalgo sings lead on "Christmas Time In Texas," a track made popular by Tex-Mex legend Freddy Fender. Lozano's distorted upright bass keeps time with his son Jason Lozano on drums, who makes special guest appearance on the song.
"Dónde Está Santa Claus" fires on all cylinders like a lowered Chevy Impala cruising Whittier Boulevard on the weekend. Berlin's warm Vox Continental organ and Perez's potent drumming create a head-nodding groove that's miles away from the 1958 original, which was a novelty hit for 12-year-old singer Augie Rios. His version featured a full orchestra and poppy background vocals.
One of the interesting things about Llegó Navidad is that the rancheras, salsas and son jarochos on the album would sound right at home on the group's 1978 debut, Los Lobos del Este de Los Angeles. It's a rare full-circle moment for the Grammy®-winning band, which has prided itself on never covering the same ground twice while making music for nearly 50 years.
Their journey began in 1973, when Hidalgo (vocals, guitar, and pretty much anything with strings), Perez (drums, vocals, guitar), Rosas (vocals, guitar), and Lozano (bass, vocals, guitarrón) earned their stripes playing revved-up versions of Mexican folk music in restaurants and at parties. The band evolved in the 1980s as it tapped into L.A.'s burgeoning punk and college rock scenes. They were soon sharing bills with bands like the Circle Jerks, Public Image Ltd. and the Blasters, whose saxophonist, Steve Berlin, would eventually leave the group to join Los Lobos in 1984.
Early on, Los Lobos enjoyed critical success, winning the Grammy® for Best Mexican-American Performance for "Anselma" from its 1983 EP …And a Time to Dance. A year later, the group released its full-length, major-label debut, How Will the Wolf Survive? Co-produced by Berlin and T Bone Burnett, the album was a college rock sensation that helped Los Lobos tie with Bruce Springsteen as Rolling Stone's Artist of the Year.
A major turning point came in 1987 with the release of the Ritchie Valens biopic, La Bamba. The quintet's cover of Valens' signature song topped the charts in the U.S. and the U.K. Rather than capitalize on that massive commercial success, Los Lobos instead chose to record La Pistola y El Corazón, a tribute to Tejano and Mariachi music that won the 1989 Grammy® for Best Mexican-American Performance.
That kind of sharp artistic turn has become Los Lobos' trademark, serving to both fuel the band's creativity and keep its fans engaged. In 1992, that willingness to defy expectations led them to record Kiko, an adventurous album produced by Mitchell Froom that's considered by many to be one the band's very best.
Since then, Los Lobos has continued to deliver daring and diverse albums such as Colossal Head (1996), Good Morning Aztlán (2002), The Town and the City (2006), Tin Can Trust (2010) and Gates of Gold (2015). On top of that, the band's live shows never disappoint, as documented on the recent concert recordings Live at the Fillmore (2005) and Disconnected in New York City (2013). Through the years, they've managed to keep things interesting with unexpected side trips like an album of Disney songs in 2009, along with countless contributions to tribute albums and film soundtracks. One of those – "Mariachi Suite" from the 1995 film Desperado ¬– earned the band a Grammy® for Best Pop Instrumental Performance.
Los Lobos has sold millions of records, won prestigious awards and made fans around the world. But perhaps its most lasting impact will be how well its music embodies the idea of America as a cultural melting pot. In it, styles like son jarocho, norteño, Tejano, folk, country, doo-wop, soul, R&B, rock 'n' roll and punk all come together to create a new sound that's greater than the sum of its parts.
Links: Official Website | Facebook | Instagram | Twitter
GABE DIXON
Born and raised in Tennessee, Gabe Dixon is a Nashville-based singer-songwriter and multi-instrumentalist. Since he first emerged in 1999, he has been penning honest and heartfelt tunes that continue to garner fans and crowds across the globe. "Live Again", a Gabe Dixon original, was recently chosen by Garth Brooks to bookend "The Trilogy" along with "Let it Be" and "Hey Jude" at his Live from Notre Dame Concert in front of nearly 100K fans and a National TV audience. Gabe's songs have also been featured in major films such as The Proposal and TV shows such as Nashville, Grey's Anatomy, Vampire Diaries and Parks & Recreation. Along with his own appearances on Jimmy Kimmel Live! and The Late Late Show, Dixon has performed with notable acts like Paul McCartney, Alison Krauss & Union Station, Supertramp, Loggins & Messina, and O.A.R. In 2019, he began touring with Tedeschi Trucks Band while also working on his new album, which is slated to release in 2020.

Links: Official Website | Facebook | Instagram | Twitter

Venue Information:
Westville Music Bowl
45 Yale Avenue

New Haven, CT, 06515