Similar Kind – Tickets – Space Ballroom – Hamden, CT – August 26th, 2022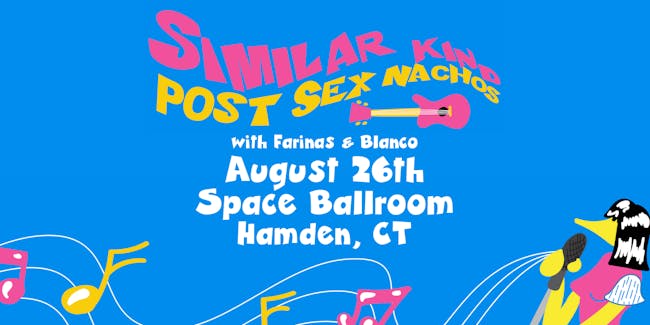 Premier Concerts and Manic Presents:
Similar Kind
Post Sex Nachos, Farinas & Blanco
Space Ballroom
Hamden
,
CT
with Post Sex Nachos, Farinas & Blanco
General Admission Standing Room Only
COVID-19 Policy
Masks are strongly encouraged.
By purchasing tickets to this event, you agree to abide by the State of CT, City of Hamden, Artist, and Space Ballroom's Health and Safety measures in effect at the time of the event. Check back for updates to your event on our website as guidelines and entry requirements are subject to change.
SIMILAR KIND
Similar Kind is an indie pop band from Norwalk, CT. It originated as just a few friends jamming in a garage and has blossomed into a five piece band playing shows all over the US. Similar Kind has played with acts such as Sunflower Bean, Bad Bad Hats, Hot Flash Heat Wave, No Vacation & more. The band is currently working on a follow up EP to their debut "Faces & Places" a project chock-full of indie pop, reminiscent of The Cure and Talking Heads, described as "dance-ready synth-pop. equal parts R&B, pop, and indie rock, the EP is a highly-polished, thoroughly-confident release".
The band has a pair of new singles "I Don't Wanna Fight Anymore" and " There She Was" their latest releases.
Links: Official Website | Facebook | Twitter | Instagram | Spotify
POST SEX NACHOS
A wise old man once uttered the words "the world could change by the hand of a single nacho." 
 From deep in the underground of central Missouri emerged 5 soldiers, ready to go to battle in the name of rock n' roll. Their common bond? Late night drunk Mexican food. Their resources are limited, but their valor is strong. Follow these heroes on their quest to revive the sensation of "oooh" and "ahhh." Watch them breathe new life into dying genres, flailing aimlessly on a path of no return. Post (drum roll) Sex (faster drum roll) Nachos. (Skadoosh) 
 - Chase Mueller (Bass), Hunter Pendleton (drums), Mitch Broddon (lead guitar), Kevin Jerez (keyboards) & Sammy Elfy (rhythm guitar & lead vocals)
 
 This bio is unofficially not sponsored by Jack Daniels Tennessee Honey Whiskey.
Links: Official Website | Facebook | Twitter | Instagram | Spotify
FARINAS & BLANCO
A melting pot of musical styles and proclivities, Blanco is a project spawned from an increasing desire to create and perform music during the pandemic-induced absence of live shows. Consisting of Ryan Farinas (vocals), Matt Oriente (saxophone), Seamus Connelly (guitar), Kai Dimuzio (bass), and Shane Jozitis (drums), Blanco got its initial kicks at the Freedom Cafe in the fall of 2020, a leap of faith that has taken them to repeat appearances at Newmarket's Stone Church, Cambridge MA's Middle East, and the same stage as hip-hop star Tai Verdes. Farinas' background in hip-hop and R&B combined with the rest of the band's studies in jazz and alternative rock result in a sonic smorgasbord offering a little something for everyone who attends a show. The band paints their performances with a bright color palette, effusing exuberance, emotion, and whimsy into the atmosphere each time they take the stage. Their name – chosen shortly before their debut performance – is an ode to their first fan and the band's official mascot: Farinas' white pitbull, Blanco.

Links: Official Website | Twitter | Instagram | Spotify

Venue Information:
Space Ballroom
295 Treadwell Street

Hamden, CT, 06514