Sheer Mag – Tickets – Space Ballroom – Hamden, CT – June 23rd, 2022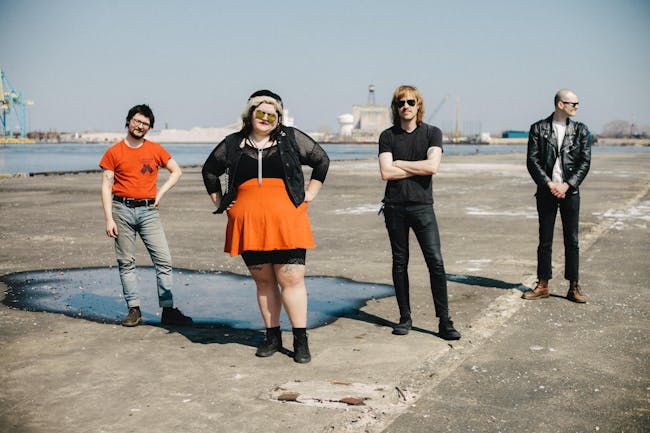 Premier Concerts and Manic Presents:
Sheer Mag
Killer Kin
Space Ballroom
Hamden
,
CT
with Killer Kin
General Admission Standing Room Only
COVID-19 Policy
Masks are strongly encouraged.
By purchasing tickets to this event, you agree to abide by the State of CT, City of Hamden, Artist, and Space Ballroom's Health and Safety measures in effect at the time of the event. Check back for updates to your event on our website as guidelines and entry requirements are subject to change.
SHEER MAG
Sheer Mag's dizzying rise initiated in 2014, when the Philadelphia band self-released the first of three 7-inches and started playing the Northeastern DIY circuit. Ironically, the music stood apart because it sounded so familiar. Indebted to '70s arena rock, power-pop, and proto-metal, Sheer Mag's songs reminded a lot of us of the music we grew up with, but maybe couldn't relate to because it was big, brash, and unapologetically macho. Sheer Mag reclaimed some of that energy without perpetuating the toxicity. On their debut album, Need to Feel Your Love (2017), the band surveyed their contemporary political landscape through the lens of history. Singer Tina Halladay transported herself back to the 1969 Stonewall Riots, denounced redlining practices that undermine the popular vote, and paid homage to White Rose activist Sophie Scholl. On paper, it's a mouthful, but accompanied by guitarist/lyricist Matt Palmer, guitarist Kyle Seely, and bassist/producer Hart Seely, those songs became hook-laden rallying cries.

Two years later, Sheer Mag have returned with their sophomore album A Distant Call. They're still writing about surviving our current hellscape, but this time around, the politics get extra-personal. The album verges on being a concept piece, and the protagonist resembles Halladay herself. The songs document a particularly alienating time in her life when she was laid off from a job. Broke and newly single, her father (with whom she had a fraught relationship) passed away, leaving her with more wounds than felt possible to heal.

"We've been waiting to write these songs since we started the band and we were able to take these experiences and build a story out of them," Halladay says. Palmer adds: "We don't want people to be bogged down by pretension or theory. You don't need to have read Das Kapital to know that capitalism is terrible. A Distant Call makes an argument for socialism on an anecdotal level. We're talking about how late capitalism alienates and commodifies whatever is in its path without using the term 'late capitalism.'" Palmer and Halladay's new approach to lyricism extended to the recording process, too. Once the Seely brothers had laid down the tracks, Halladay recorded vocals with producer Arthur Rizk (Power Trip, Code Orange) as opposed to on an 8-track, which was the band's preferred method on previous releases.

A Distant Call opens with Halladay's measured scream before "Steel Sharpens Steel" kicks in. It's a prologue that foreshadows our protagonist's journey from feeling down-and-out and destitute to self-actualization. "It's a chain reaction/ When you turn the other cheek/ Remember if you're looking for action/ And you're feeling dull and weak," Halladay snarls on the chorus, channeling Judas Priest over the boot-stomping rhythm section. The story really gets started on "Blood from a Stone," when we learn that our protagonist's SNAP application was declined, and she's "living check-to-check." It's heavy power-pop so sleek it gleams. "We had some more soul and dance songs on the last record and we'll probably return to that at some point," Palmer says. "But on this record we wanted to focus on making straight-up rock music."

That isn't to say that A Distant Call doesn't draw from a wide-range of influences within rock. The twinkling lap steel guitar on "Silver Line" sounds-off to Fleetwood Mac, showcasing a softer side to Sheer Mag. The lyrics find our protagonist in a desperate state, self-medicating with alcohol. When she recognizes her own predicament in the headlines, though, her depression eases off momentarily. "Well there's a picket line down in West Virginia/ The bosses caved but wildcats continue/ Today my job said to not come back/ So now I'm striking for nothing with no contract," Halladay sings. In the next song, the jangling "Hardly to Blame," our protagonist is dumped by her partner. Heartbroken, she wanders the streets of Philadelphia, which has turned into "a puzzle" that she "can't solve 'cause it's not true." On "Cold Sword," she snaps back to reality upon learning of her father's death. Forced to reconcile with familial trauma, our protagonist asks: "How could I learn to love/ From somebody so abusive?" The question goes unanswered but the undeniably catchy chorus provides some form of catharsis.

"I tend to think of 'Cold Sword' as the fulcrum that the album pivots on. The protagonist recognizes that this is the only life she has, and in spite of the pain and suffering she experiences, she starts to want to make the most of it," Palmer says. The bright melody of "Chopping Block" brings levity, as Halladay sings, "Between the parties there's no light/ We need workers to unite/ We can decide to have another world/ But we're gonna have to fight." Our protagonist's confidence blooms on "The Right Stuff" when she addresses anyone who might think her weight is concerning: "If you're worried about my health/ Shut your mouth and keep it to yourself." In recognizing that beauty standards are a capitalist ploy designed to keep women imprisoned, our protagonist starts down a road to self-acceptance, and maybe even love.

The conflicts our protagonist comes up against coalesce on "The Killer." The system at-large has been the culprit all along, and she recognizes that rich politicians running the country have more control over her life than she does. They're "shaking hands on the senate floor" and brandishing their hypocrisy like a weapon: "He's got you right between the eyes/ Waving the flag for human rights." It's the penultimate track on the album, and it best exemplifies Sheer Mag's growth from those nascent three EPs to now; the production is razor-sharp, and the gang vocal motifs are as playful as they are ferocious. There's a glimmer of hope in the struggle, and Sheer Mag close the album with a message of resilience. "They wanna see us fall," Hallday sings, "But I hear a distant call." In the background, a faint whisper beckons from just outside the realm of possibility. "Keep on running," it urges.

Links: Official Website | Facebook | Instagram | Spotify

Venue Information:
Space Ballroom
295 Treadwell Street

Hamden, CT, 06514