CANCELLED: Parkway Drive: North America Tour 2022 – Tickets – College Street Music Hall – New Haven, CT – May 9th, 2022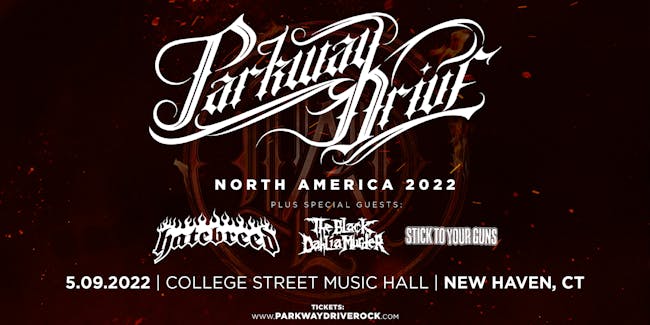 Premier Concerts and Manic Presents:
Parkway Drive
Hatebreed, The Black Dahlia Murder, Stick To Your Guns
College Street Music Hall
New Haven
,
CT
$39.50 - $49.50
Cancelled
​with Hatebreed, The Black Dahlia Murder and Stick To Your Guns
This event is General Admission Standing Room on the Floor and Reserved Seated in the Balcony.
Parkway Drive has cancelled their North American Tour. Refunds will automatically take place and be returned to the original payment method. Please allow up to 30 days for the refund to be posted to your account.
PARKWAY DRIVE
Formed in Byron Bay in 2002, Parkway Drive have released six studio albums, all on Epitaph: Killing with a Smile (2005), Horizons (2007), Deep Blue (2010), Atlas (2012), IRE (2015), Reverence (2018). Reverence entered the official German and Swiss albums charts at #3, Austrian at #5, Belgian at #6, United Kingdom at #14, and US at #35. In their home country Australia, it debuted at #1.
In 2020 band released the documentary 'Viva The Underdogs,' which features over a decade of behind the scenes personal footage, coupled with unprecedented access to the band's most explosive live tours and world's biggest music festivals. The soundtrack for the documentary was released in the same year. Featuring 11 live tracks from the band's 2019 headlining set at German heavy metal festival Wacken Open Air, the soundtrack also includes 3 studio tracks recorded in German; "Würgegriff (Vice Grip)", "Die Leere (The Void)", and "Schattenboxen (Shadow Boxing)" which features German rapper Casper.
Links: Official Website | Facebook | Instagram | Twitter | Spotify
HATEBREED
With unflinching tenacity, the impenetrable heavy metal hardcore factory that is HATEBREED has brought forth yet another iron cast, sonic weapon with Weight Of The False Self. It comes as no surprise that their eighth, full length album is the result of the usual sweat and blood that have cemented HATEBREED's unique niche in the world of music for over two decades. Renowned for their ability to provide an intense and cathartic release for their fans, HATEBREED challenged their writing style through this album cycle in order to produce material that is exceptionally relatable in a contemporary world flooded with overstimulation, emotional dampening, and lack of social patience. "Weight Of The False Self' is a perfect representation of HATEBREED in 2020, a fresh onslaught of soon to be classics with all the elements that led you here since day one," explains guitarist Frank Novinec.
A metaphorical weight is carried by almost every individual in regards to their emotional construct. Our experiences shape who we become and over time, gradually produce a heavy burden that we continue to lug along. For many of us, the weight becomes so much that we struggle to get out from underneath, let alone move. It is these struggles that are translated throughout Weight Of The False Self.
"Seen or unseen, everyone is carrying a burden. The music we love helps us bear the weight" proclaims vocalist Jamey Jasta. Tracks like "Cling To Life" supply a play on words that usually mean to desperately cling to those last breaths, but here, these words display that in the wake of true loss and mourning, to cling to the idea of happiness and future can bring sincere relief. On the other end of the philosophical spectrum, the first single "Instinctive (Slaughterlust)" not only presents a fresh vocabulary word, but screams about the power that comes from our defense mechanisms when backed into a corner. When someone is being pursued by their past, another person, or just defending their own territory, it's only a matter of time and distance before they can explode into a savage, primal beast. "It should be illegal to make a song this heavy," describes bassist Chris Beattie.
The song "Wings Of The Vulture'' is a metaphor for all the negative forces of nature, fate, and humanity that hope to prey upon us during some of our weakest moments; waiting for the death of something meaningful. "A Stroke Of Red," contrary to what it may seem at first, touches on the concept of having the choice to harm yourself or others. "It's an eye for an eye, but that leaves everyone blind. Once you go down that dark, violent path, there is no turning back. This song is a dark canvas; leaving my body to exact terrible things on a different plane, and coming back to myself in order to learn from it so that you don't ever give in to that dark, carnal desire," explains Jasta.
Album artwork by renowned heavy metal artist Eliran Kantor depicts a man chiseling away at the massive sculpture of a stone bust. In Kantor's classic painting style, cracking through the clay of turmoil and sadness, a light is beginning to shine through the rock as the sculptor turns his face from the blinding beams of healing. The image visually combines the album's themes of emotional struggle and managing to overcome pain after layers of depression, anxiety, betrayal, and heartbreak have hardened atop a person's soul.
Over the course of over 20 years and 8 albums, the writing process for a band like HATEBREED has stayed safe in its roots, but still reached out and grabbed for crisp and compelling pieces of progressive sound to add to the mix. There are waves of fresh sounds while the massive foundation that houses HATEBREED remains strongly held in place. "On this album I really pushed myself; made myself rewrite things until they were better, until it clicked. I pulled myself out of that comfort zone. In the age of legacy bands having to play so many hits from their catalogue at shows, we love to hear fans request new songs when we're playing live," explains Jasta, "we've really played into our strengths with this one."
"There's no shortage of beefy-riffs and adrenaline-fueled-drums on this record. I'm proud to say that we will consistently provide a soundtrack to which you can mosh in your living room and destroy your apartment," details drummer Matt Byrne.
Recording the album once more with the help of ZEUSS, the band experienced a sense of challenge and breakthrough that enabled them to obtain a new level of sound. After working with the band for several years, and while normally spending his time with bands that have a fairly different sound, Zeuss is able to test HATEBREED and expand their already infamous vibration. "It was really great working with Zeuss again on this one. Love the way the guitars sound," comments guitarist Wayne Lozinak. As time goes on, the quality of production technology only seems to get better and better, creating a safe and productive nest in which albums can evolve and end up with a much cleaner sound; Weight Of The False Self brings early 2000's era HATEBREED into the new decade.
Released on November 27th, 2020 via Nuclear Blast Records, Weight Of The False Self will likely be noted as one of HATEBREED's strongest, and most memorable albums.
Links: Official Website | Facebook | Instagram | Twitter | Spotify
THE BLACK DAHLIA MURDER
Verminous is The Black Dahlia Murder's most dynamic, rousing and emotional release to date, and it achieves this without compromising one iota of heaviness. "I think this is the biggest evolutionary leap we've ever taken from one album to the next. We stoked the creative fires with 2017's 'Nightbringers' and it's gone much further now in 'Verminous'," states vocalist Trevor Strnad. "It's a very colorful, moody, and charismatic album that experiments with new sounds and ideas without losing the cutthroat Black Dahlia edge. There is a lot of minutiae to digest. Plenty of delicious little Easter eggs woven into the fabric of each song. Each one is a living, breathing entity that will stand on its own as some of the best music this band has ever created."
That this is a new phase for The Black Dahlia Murder is apparent as the compellingly filthy opening title track rumbles to life, and the album remains gripping for each of the nine tracks that follow. One of the most immediately evident evolutions is in how anthemic their ninth record is, the band inspiring fist-in-the-air responses, particularly in closing track "Dawn Of Rats". "'Verminous' has got some really huge parts that I'm sure will resonate greatly with our fans. It was definitely intentional on our part - a band can only hope to write a song so good that it would be seen as an anthem." Likewise, there is more melancholy on the record, particularly on "Removal Of The Oaken Stake" and "Sunless Empire", adding another dimension to the band's sound and expanding the dark sonic palette with which they paint, all of this coming naturally. "As usual, there was no discussion nor preemptive planning going into the album. We prefer to keep things completely organic and just let the music flow when the time is right. We just write what we write. I do however think it's been an underlying goal for the last several years to make more diverse music. We want an album to feel like a wild ride. A journey from beginning to end that has peaks and valleys."
When it came to title the record, Strnad looked around at the scene he has helped nourish for two decades and found his inspiration. "We, members of our beloved and hidden world of the heavy metal underground teeming just below the surface, are the verminous. The rats and roaches looming in the cracks and crevices of this fallen world. We are the pariahs that the world of normality finds loathsome and obscene. We are the carriers of a plague of knowledge so vile that it could bring the unsuspecting mankind to its knees. Always the underdogs. Our love for this music and what it means to our lives is foolishly underestimated." This ties into the lyrical themes that permeate the record, though not exclusively, Strnad not struggling to find subject matter that engaged him. "The outside world of religion-warped 'normalcy' is the opposing viewpoint. We are the ultimate antagonist to their archaic ways of thought, the dreamers of the nightmares that shake them to their very core. Although we are but lowly vermin to them, the unseen and underestimated, our numbers are millions strong. We cast aside their ways and prefer to take solace in the hidden realm of the underground where the dark fruits of free thought can be enjoyed. We are our own Gods. The responsibility of our actions is ours alone." In his position, he is also able to both provide listeners with opportunities to exorcise compulsions toward exploring dark themes and find some personal release. "Not unlike the appeal of a horror movie, there is a curiously dark side in all of us that can enjoy the occasional gaze through the eyes of the all-powerful masked killer. I enjoy taking the listener on such a ride. There is a certain catharsis in putting myself into the heart of each character I create. Where I lack power in my life, I channel it in my creations."
While the drums were recorded at The Pipeyard in Plymouth, Michigan by ex-bassist and longtime studio guru Ryan "Bart" Williams, the bulk of the album was recorded in New Jersey at guitarist Brandon Ellis' home studio, the Shred Light District, then mixed by Tue Madsen and mastered by Alan Douches. Produced by Ellis and the band, Verminous sees Black Dahlia having a greater level of control over every facet of recording than on any previous release, enabling them to tweak and fine-tune all the small details right up until the point they sent it to Madsen in Denmark. "To say we were anal-retentive would be an understatement. Tue did an outstanding job. His mix is organic. Classic sounding. Not too slick. It's got an old school 'real life' feel to it rather than being the overly polished quantized-to-hell drek that is coming out these days. We wanted the album's sound to have its own personality, and he helped us achieve just that. Finally, Alan did a great job of smoothing out the final details with his mastering. He beefed it up into what you hear now." The only other outside collaborators with which the band worked were soundscape artist Michael Ghelfi, who provided the sample that opens the record and "sets the pest-ridden vibe", and Juanjo Castellano, who painted the cover. "It's amazing and classically death metal cover artwork. I call it an evil underground sewer world, home to the verminous ones. If you look closely you can find all kinds of rats and bugs and critters scattered throughout. The amount of detail Juanjo put in there is second to none."
As has been their MO since inception, the band intend to tour the record hard, planning on being on the road with Verminous for the next two to three years, as long as the demand is there. Having had very successful tours with Whitechapel and Meshuggah on the Nightbringers cycle, as well as converting some newbies to the Black Dahlia cause while out with Black Label Society and Insomnium, they look forward to the challenge of playing the increasingly complex music in which they deal. "It's like a drug, the challenge of it all. There is a masochistic thrill in performing this technically demanding music that you just can't get anywhere else. We are a live band through and through. We live to destroy ourselves onstage every night. We give one hundred and ten percent every time and drain ourselves until there is nothing left to give. It's a good pain and I wouldn't do things any other way."
Links: Official Website | Facebook | Instagram | Twitter | Spotify
STICK TO YOUR GUNS
Since emerging in 2003, Southern California's Stick To Your Guns—Jesse Barnett [vocals], Andrew Rose [bass], George Schmitz [drums], Chris Rawson [guitar], and Josh James [guitar]—have merged socially conscious and outspoken lyricism with hardcore energy and hammering metallic force. They took a bold step in a new direction on their sixth full-length album, True View [Pure Noise Records] by expanding their grasp of melody, amplifying the haunting clean vocals, and incorporating actual phone conversations to thread together a narrative of self-realization. It was only a matter of time before they got this personal. Through countless shows and a steady stream of music, the band attracted a devout fan base. Among many accolades, Diamond would bow at #1 on Billboard's Heatseekers Chart in 2012 as 2015's Disobedient went Top 100 on the Billboard Top 200. 2016 EP, Better Ash Than Dust, repeated the #2 debut on the Hard Rock Albums Chart and earned acclaim from Alternative Press, Revolver Magazine, New Noise Magazine. Moreover, 2017 saw Stick To Your Guns make history, becoming "the first American hardcore band to play East Africa" in Nairobi, Kenya. Along the way, Stick To Your Guns toured across the globe with everyone from Every Time I Die and The Amity Affliction to BlessTheFall and Being As An Ocean in addition to multiple stints on the Vans Warped Tour.

Links: Official Website | Facebook | Instagram | Twitter | Spotify

Venue Information:
College Street Music Hall
238 College Street

New Haven, CT, 06510