Moon Tooth – Tickets – Space Ballroom. – Hamden, CT – August 5th, 2021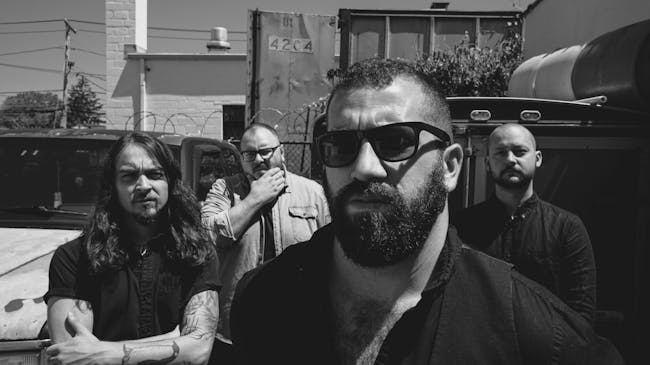 Premier Concerts and Manic Presents:
Moon Tooth
Loss Becomes, Head With Wings
Space Ballroom.
Hamden
,
CT
General Admission Standing Room Only
MOON TOOTH
Moon Tooth began its journey at the end of 2012. Founding members Nick Lee and Ray Marte's previous band had dissolved and they quickly found a musical and philosophical kinship with singer John Carbone and bassist Vincent Romanelli. The band went straight to work writing and constantly gigging. They broke 100 shows in their first year with a relentless DIY ethos and quickly built a following with their intense and infamous live performances.
In February of 2016 the band self-released its first full-length LP 'Chromaparagon' to much critical acclaim. The attention from the album helped the band land endorsements with Vigier Guitars, Sabian Cymbals, & Ernie Ball Strings. Drummer Ray Marte was also featured on Vic Firth's YouTube channel. Guitarist Nick Lee regularly performs at the Vigier Guitars booth during Winter NAMM.
While touring with Fit For An Autopsy (2017), Moon Tooth gained the attention of renown record producer Machine (Lamb of God, Clutch, King Crimson, Everytime I Die). The producer was so intrigued by the potential in the band's blend of heavy, progressive riffs and melodic, soulful vocals that he reached out to the band directly. He and the band, who had all grown up as fans of Machine's work, immediately started making plans to work together. Machine enlisted the help of Lamb of God's Mark Morton for pre-production to truly make it a unique and explorative experience for everyone involved. Machine & Mark guided the material just enough to bring out the best of the band without taking anything away from the sound they had cultivated over years of writing, recording, and touring together. The duo of producers brought a new level of focus to the process and Crux was born.
Links: Official Website | Facebook | Twitter | Instagram | Spotify
LOSS BECOMES
LOSS BECOMES is a modern take on classic metalcore with hardcore tendencies. The music is unforgivingly aggressive and executed with intensity and vigor. Anthony's ferocious enthusiasm can be heard on every lyric, giving the band what can only be described as a full aural assault.
Perhaps you saw him defeating Bobby Flay on his eponymous show "Beat Bobby Flay". Or maybe you caught a peek of him leading the kitchen at Beauty & Essex NYC. But Chef Brian Tsao is not your typical chef. He wants to fill your ears as much as he wants to fill your belly.
So with a heavy appetite for heavy music, Tsao picked up his guitar and was ready for a new adventure. That's when he reached out to friends Alec Kossoff and Will Gomez. Alec, having previously played drums for DC-based progressive metal act Wings Denied, relocated to NYC where he made his mark as a professional acrobat, stunt man and trapeze instructor. Will, a hospital radiologic technologist who continues to work through the Covid outbreak since March, earned his stripes as the former bassist of NYC bands Johnny Cage is a Fake and Tiger Flowers.
In the bowels of an NYC practice room called Funkadelic, the trio carved and shaped their varying styles, writing together for months until LOSS BECOMES was born. In search of a powerful voice to complete the circle, all roads led to Anthony Copozzi who earned his vocal chops as lead singer of Long Island metal act Thracian.
LOSS BECOMES recorded its first full-length at Long Island's Westfall Recording Co. with producer Anthony Lopardo at the helm (Moon Tooth, Johnny Booth, Give Up The Goods). Tsao hailing from Queens, Kossoff from Manhattan, Capozzi from Long Island and Gomez from the Bronx, LOSS BECOMES is truly a New York Heavy Metal Sonic Force.
Links: Official Website | Facebook | Twitter | Instagram | Spotify
HEAD WITH WINGS
We often start naive and green and either blossom into something remarkable, or we fizzle out—resigning to the life that we feared all along; the one we've been resisting - - an uncertain path, a repetitive/menial existence, and the promise of a life without limitations. How far are you willing to go to either abandon or protect the way of life that you've been leading?"

These words paint the scene for the first act of atmospheric alternative rock quartet Head with Wings' next chapter.

Amidst sweeping changes felt on a global scale, aspirations were put on hold, radiant futures dimmed, lives ended prematurely, and dreams were left to rot on the vine. For so many, the struggle was a silent one—a daily war waged alone.

On their forthcoming EP, Comfort In Illusion, Head with Wings draws the listener into the isolated, agonizing, and momentarily euphoric struggle for self-actualization amidst the stifling frame of an increasingly unfamiliar world.

The collective's first output since 2018's critically-acclaimed debut, From Worry to Shame, presents a concise summation of the group's collective growth as artists and individuals. Comfort in Illusion dives deeper into the quartet's textural and emotive sound exploration with a timely personal narrative of self-discovery and the anxiety of change.

Of Uncertainty''s hypnotic sway and surreal acoustic and electric voice-painting opens the three-movement suite in arresting fashion. A fitting bridge from the world of old to that of the new, the single embodies everything in seven crisp minutes that make Head with Wings a singular presence in a rock landscape that has been all too content to echo the hallmarks of yesteryear.

Andrew Testa's inspired and mature drum performance radiates intention; giving the song an addicting sense of weightless movement, while Brandon Cousino and Mike Short's soulful and dexterous lead guitars shade and illuminate the scene around the striking vocal character of Joshua Corum. These qualities are further enhanced by the single's immersive visual accompaniment provided by Black Soil's talented animation crew.

Cathartic and soothing, 'Contemplating the Loop' exercises the group's fluid command of abstract rhythm, leaving the listener to feel, rather than think their way through its floating, ever-shifting pulse. Anchored by Steve Hill's silky bass runs, the song sets the constant ebb and flow of self-doubt and willful determination to sound.

Finally, the tumultuous, mathy voyage of 'In a House Without Clocks' brings the concise three-track journey to a poignant coda. Bittersweet and overflowing with yearning, Corum leaves the listener with the parting questions: "Would you consider a life without a path … or would you fear it would all just fall apart—the plan that never started, the waters left uncharted?"

The odyssey feels both hopeful and grave—reckoning with an ever-fleeting sense of a gratifying future drifting further away each day, and the uncertainty of correcting course. The dark side of pursuing one's dreams and the toll time takes on ambitions that were once so vivid are laid bare. Swelling into heart-searing vocal peaks and commanding streaks of expressive lead guitar, "In a House …" sets the tone for a pivotal moment of change, with Corum rising to the occasion as one of the eminent voices in modern alternative music.

The delicate beauty and lushness of Comfort in Illusion was carefully captured by Greg Thomas (END, Misery Signals) and Chris Teti (The World Is a Beautiful Place & I Am No Longer Afraid to Die) at Silver Bullet Studios. Thomas' spacious, engrossing mix is heightened by Kris Crummett of Interlace Audio's adept mastering—delivering a shimmering, modern sound that listeners will discover in new ways with each pass.

The themes of conviction and change, etched into the fibers of these songs, are also reflected in the band, whose own internal makeup shifted in a similarly bittersweet way. Capturing what amounts to founding drummer Andrew Testa's most stylistically-definitive performance, the EP also serves as a fitting send off for a member who was integral to crafting the core architecture of the band's sound. His legacy will be continued and expanded upon through the deft percussion skill of Head with Wings' resident multi-instrumentalist, Mike Short, who shifts from his co-lead guitar role on the recording of the new songs to drums going forward.

We can never again return exactly to where we have been, and the same can be said of the distinctive lineup of performers in their designated roles on this special output—a moment in time faithfully preserved.

Comfort in Illusion will also feature a unique release format, with each song being followed by a cinematic companion piece delivered by the remarkably talented Vikram Shankar. The prolific composer, who was heralded for his expressive piano interpretations of songs on From Worry to Shame, expands his contributions to the Head with Wings collective with fully reimagined arrangements of each movement of the forthcoming EP. These remixes transform each track's mood into a palpable visual scene listeners can explore in their own personal way.

Links: Official Website | Facebook | Twitter | Instagram | Spotify

Venue Information:
Space Ballroom.
295 Treadwell Street

Hamden, CT, 06514