King Crimson – Tickets – Westville Music Bowl – New Haven, CT – September 5th, 2021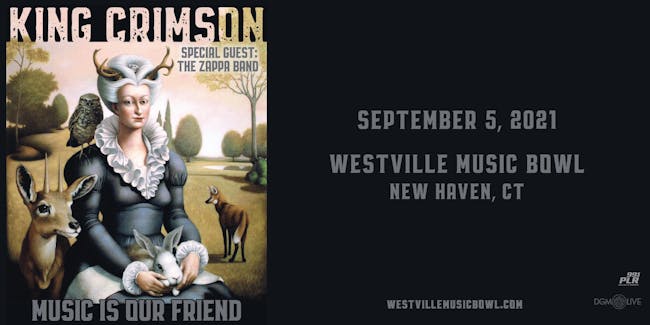 King Crimson
The Zappa Band
Westville Music Bowl
New Haven
,
CT
​
This event is GA floor and reserved seating. Rain or shine event, no outside food or beverage allowed
No Photography or Recording Permitted
KING CRIMSON
"King Crimson is, as always, more a way of doing things. When there is nothing to be done, nothing is done: Crimson disappears. When there is music to be played, Crimson reappears. If all of life were this simple". Robert Fripp.
King Crimson was conceived in November 1968 and born on January 13th 1969 in the Fulham Palace Cafe, London (Fripp/Ian McDonald/Greg Lake/Michael Giles/Pete Sinfield), coming to prominence after supporting The Rolling Stones at Hyde Park. Their ground-breaking debut In The Court Of The Crimson King (1969) described by Pete Townshend as "an uncanny masterpiece", began a career that has spanned four decades and influenced many bands and individuals including Yes, Genesis, Tool, and Porcupine Tree.
Despite the original line-up imploding after an American tour King Crimson continued to produce constantly challenging and intriguing music on albums such as In The Wake of Poseidon (1970), Lizard (1970), Islands (1971), Earthbound (1972), Larks' Tongues in Aspic (1973) and Red (1974).
Following Red, an exhausted Fripp declared "King Crimson is completely over for ever and ever."
After a period outside the music industry, Robert Fripp returned to work on solo projects (including Frippertronics and his first solo album, Exposure in 1979) and collaborations with artists such as, Daryll Hall, Blondie, Brian Eno, Peter Gabriel, David Bowie.
In 1981, Fripp reconvened King Crimson along with Adrian Belew (Zappa/Bowie/Talking Heads), Tony Levin (Paul Simon/John Lennon/Peter Gabriel) and his old sparring partner, Bill Bruford.
"The bleak Crim view lightened" according to Fripp as their musical vocabulary widened and Crimson combined gamelan, funk and rock grooves that would threaten to "tear out and flatten ear hairs within a mile." Albums which followed include Discipline (1981), Beat (1982) and Three Of A Perfect Pair (1984) and a stunning live album from their last ever performance in 1984, Absent Lovers (finally released in 1998).
Following a lengthy period outside the music industry mainstream - during which Fripp not only established Guitar Craft, engaged in a protracted but ultimately successful legal battle with his former mangers, and collaborated with David Sylvian—King Crimson re-emerged in 1994 with Trey Gunn (touch guitar) and Pat Mastelotto (drums).
Joining forces with Belew, Levin, Bruford and Fripp and dubbed the Double Trio, they recorded an ep VROOOM (1994) and THRAK (1995) and a suite of live improvs, THRaKaTTaK (1996). In 1997, the group subdivided into research and development units collectively known as the ProjeKcts, producing an exciting and inventive blend that mixed hard-core improv and electronica (King Crimson The ProjeKcts box set 1999).
With Tony Levin temporarily leaving to work with Seal and Peter Gabriel, and Bill Bruford returning full-time to his ongoing Earthworks jazz group, King Crimson entered the new millennium with The ConstruKction of Light (2000). In the same year the double duo of Belew, Fripp Gunn and Mastelotto produced a live set, Heavy ConstruKction, before returning to the studio to record the critically acclaimed, The Power To Believe (2003).
After a tour playing 21 countries with over 70 dates, Trey Gunn departed to pursue his own career in 2003. In 2008, a newly reconfigured King Crimson, including Adrian Belew (guitar, lead vocals), Robert Fripp (guitar), Tony Levin (bass guitar & Chapman stick) and Pat Mastelotto (drums) and Gavin Harrison played a short tour of the USA's East Coast ahead of the band's 40th anniversary.
Although the band is currently on hiatus as Fripp has observed "King Crimson lives in different bodies at different times and the particular form which the group takes changes. When music appears, which only King Crimson can play then, sooner or later, King Crimson appears to play the music."
Links: Official Website | Facebook | Instagram | Twitter
THE ZAPPA BAND
The Zappa Band touring unit is: Ray White (lead vocals, guitar), Mike Keneally (guitar, keys, vocals), Scott Thunes (bassist) and Robert Martin (keyboards, sax, vocals). Also joining are ZPZ alums Jamie Kime (guitar) and ZAPPA archivist Joe "Vaultmeister" Travers (drums, vocals). The band will be performing a mix of Zappa classics along with new and rare Zappa compositions. Described as "the ultimate Zappa alumni band in partnership the Zappa Trust" this tour will not be appearing with the hologram of Frank Zappa.

Links: Official Website | Facebook | Twitter

Venue Information:
Westville Music Bowl
45 Yale Avenue

New Haven, CT, 06515