Keep Flying – Tickets – Space Ballroom (Front Room) – Hamden, CT – July 9th, 2022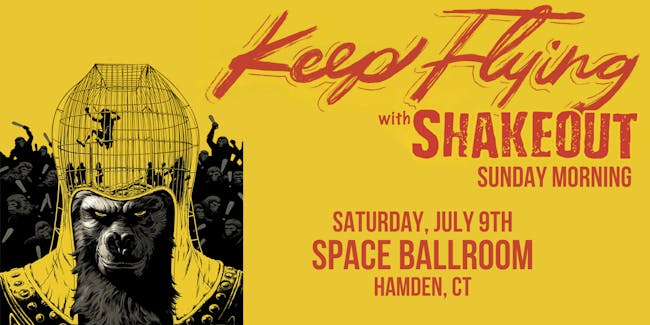 Premier Concerts and Manic Presents:
Keep Flying
Shakeout, Sunday Morning
Space Ballroom (Front Room)
Hamden
,
CT
with Shakeout, Sunday Morning
General Admission Standing Room Only
COVID-19 Policy
Masks are strongly encouraged.
By purchasing tickets to this event, you agree to abide by the State of CT, City of Hamden, Artist, and Space Ballroom's Health and Safety measures in effect at the time of the event. Check back for updates to your event on our website as guidelines and entry requirements are subject to change.
KEEP FLYING
Hailing from the northeast region of the USA, Keep Flying blends musical styling borrowed from a few different genres & eras. Crossing a mix of late 90's skate punk with the aggression of early 00's pop–punk, the band stretches a spectrum of taste that appeals to multiple audiences. Add the brass/woodwind section as reigns to the hyper-performance live show of a sleigh and you have what becomes a whirlwind of excitement behind a lyrical wall that can be easily relatable to many listeners. At its core, the band message is hands down represented by their name: Keep Flying.
Links: Official Website | Facebook | Twitter | Instagram | Spotify
SHAKEOUT
Shakeout is a rock n' roll solo project from Yonkers, NY that is looking to try something different. Unlike a traditional band biography that will tell you all of the great things this project has accomplished, I'm here to use this place to tell my story. Feeling a click when encountering live music for the first time is unbelievable; it's truly what drives me to pursue the dream of creating full-time. Finding other people with the same mindset is a must, which is just one of the many lessons I've learned over the years. Through this project and my music, I aim to share my journey while building a community that encourages others to do the same. After dabbling in multiple aspects of the music and art world, I've learned the value of sharing experiences to connect with an audience and hope to inspire a positive outlook on the potential of their creativity.
I am definitely a visual musician. I thrive on the novelty of using just my guitar and voice to create the same sonic energy of three people by utilizing live looping to demonstrate that less can be more with the right mindset. For me, I've always had a strong vision for everything that I create and doing as much by myself as possible has truly helped me to make music that feels genuine and authentic.
At the end of the day, I'm just a dude doing something I love because I want to. I hope you'll do the same. Create cool shit, do cool shit. If you're here, welcome to the Shakeout Squad. You're great.
Links: Official Website | Facebook | Twitter | Instagram | Spotify
SUNDAY MORNING
From the oxymoron in the band's name to the sounds, styles and culture that inspired it, Sunday Morning continues to deliver with precision and unpredictability on each musical release. The four cylinder engine (Dom Barone, Wes Benjunas, Parker Dumont and Erik Stanzel) feels more like a Mustang's V8 driving your shoulders into the seat while toeing the fine line of a speeding ticket and serious jail time. Following 2018's EP "In All Honesty" the Emo/Post-Hardcore band from Durham, Conn. migrated from its initial Pop Punk feel to a more fitting sound upon arrival of guitarist Dom Barone. Back to back singles "Ailment" and "Elon Musk" capped off 2019 and cemented the band's new identity. Once again teaming up with Long Island's Vudu Studios, Sunday Morning released its 2020 EP "Nothing Matters." "This EP is the most honest and thoughtful work we've ever created. It is a true representation of self-realization and self-discovery both instrumentally and lyrically." -Wes Benjunas

- Kevin Crompton

Links: Official Website | Facebook | Twitter | Instagram | Spotify

Venue Information:
Space Ballroom (Front Room)
295 Treadwell Street

Hamden, CT, 06514