Jill Sobule – Tickets – Space Ballroom – Hamden, CT – January 8th, 2022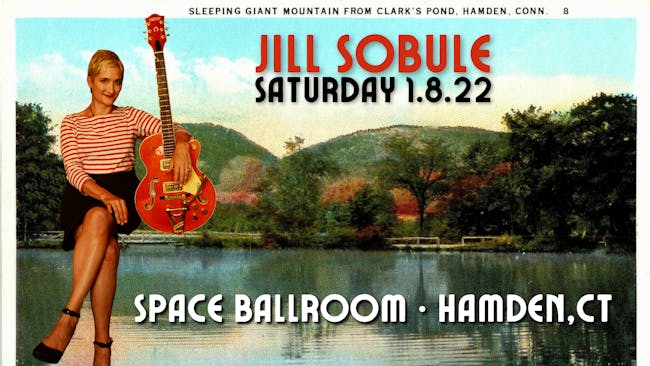 Premier Concerts and Manic Presents:
Jill Sobule
Goodnight Moonshine
Space Ballroom
Hamden
,
CT
with Goodnight Moonshine
General Admission Seated With Limited Standing Room In The Back
COVID-19 Policy
COVID-19 Vaccination (14 days past second shot) OR proof of negative COVID-19 PCR test (received within the past 72 hours) required for entry. If vaccinated, please bring your vaccination card or clearly legible photo of your vaccination card on your phone and a valid photo ID. If unvaccinated please bring printed or digital proof of your recent negative PCR test. Masks are required for all ticket holders and staff despite vaccination status. You may pull your mask down when eating or drinking only. These policies will remain in place until further notice.
To present proof of vaccination and/or negative PCR test results on your phone, we've partnered with Bindle, a digital health platform that is secure, easy to use and completely anonymous; your personal health information is never shared and your biometrics are not required. Visit the App Store or Google Play Store and search for "My Bindle." Set-up is free and simple. If you are unable to provide digital proof, physical proof is also accepted.
JILL SOBULE
Jill Sobule's work is at once deeply personal and socially conscious, seriously funny and derisively tragic. In a dozen albums spanning three decades of recording, the Denver-born songwriter/guitarist/singer has tackled such topics as the death penalty, anorexia nervosa, shoplifting, reproduction, the French Resistance, adolescent malaise, LGBTQ issues, and the Christian Right. Her hits include "I Kissed A Girl"—the first openly gay-themed song ever to crack the Billboard Top 20—and the alt-rock anthem "Supermodel" featured in the film "Clueless". Sobule was one half of The Jill & Julia Show, providing music while actor Julia Sweeney contributes storytelling. Jill is considered a pioneer in crowdfunding and is constantly exploring and creating new models for artists in an ever-changing music industry. Her latest record is "Nostalgia Kills", produced by Ben Lee and released on her own Pinko Records label. Jill's theater credits include a musical adaptation of the Broadway classic "Yentl", "Prozak and the Platypus", and "Times Square". Her latest, "F*ck 7th Grade", was postponed due to Covid, but was performed and filmed for three days at a make-shift drive-in over the Summer. The musical is a finalist for the Lambda Literary awards in LGBTQ Drama category this June.
Links: Official Website | Facebook | Twitter | Instagram | Spotify
GOODNIGHT MOONSHINE
Folk-pop partnership Goodnight Moonshine provides meaningful insight into the human experience with their new single, "Harder Than It Should Be". The couple, Molly Venter (of Red Molly) and Eben Pariser (of Roosevelt Dime), deftly examine the imperfections and unavoidable disillusionment that have dominated the last few years in a captivatingly honest performance both musically and lyrically.

While Venter penned "Harder Than It Should Be" during the Kavanaugh confirmation hearings, it resonates powerfully with the current socio-political landscape of a world in flux as the COVID-19 pandemic drastically shifts all facets of global human existence.

Goodnight Moonshine pairs the intimacy and immediacy of the 90's with the sonic explosion of the 60's. Molly Venter is a viscerally potent singer, à la Fiona Apple and Tracy Chapman, whose songwriting is redemptive and playful. Consummate musician and producer Eben Pariser, is a devotee of Ray Charles, Wes Montgomery, The Beatles and The Band; as well as a powerful singer-songwriter in his own right. Courageous unveiling and depth of experience make the collaboration between married couple Molly Venter and Eben Pariser addictively captivating.

Molly Venter's voice bends from a sweet moan to a gritty shout and back into a playful run in the space of a few bars and "it all goes down like silk," writes American Songwriter Magazine - "few singers turn first time listeners into eternal fanatics as effortlessly as Molly Venter." The emotional potency of her voice is surrounded and supported by a lush landscape of harmonies and minimalist orchestrations conceived by Eben, on vocals and electric guitar. Co-writing often, the couple uses the creative process to explore a healthy authentic relationship. Both wholesome and irreverent, they sing of grief and joy in equal measure; Molly gives smooth delivery to Eben's assertions while Eben gives form and focus to Molly's raw passion. Their music encourages listeners to embrace opposing desires, to challenge as well as support each other through inspiration and dissolution, and hopefully to share this journey with their larger communities.

Venter's voice has caught the ear of industry giants, and been prominently featured on FOX television, Apple Computers and in Warner Brothers films. Molly and Eben's Co-write "Willow Tree" was a #1 hit on the folk charts in 2014 and was featured in USA Today. Consummate performers, Molly and Eben have also appeared nationally and internationally, 100+ shows a year, with their respective bands Red Molly and Roosevelt Dime. Goodnight Moonshine tours with their four-year old son Otis.

Links: Official Website | Facebook | Twitter | Instagram | Spotify

Venue Information:
Space Ballroom
295 Treadwell Street

Hamden, CT, 06514