Citizen Cope – Tickets – South Farms – Morris, CT – September 18th, 2020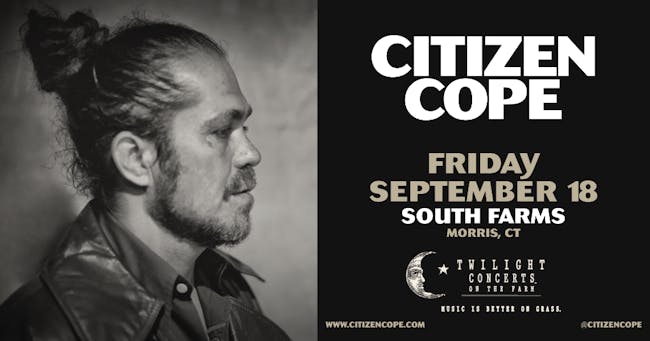 Citizen Cope
South Farms
Morris
,
CT
This is a socially distanced LIVE event with a Reserved General Admission Grid set up (2 people max allowed in grid).
CLICK HERE for a full list of guidelines, protocols, and FAQ.
Social distancing guidelines will be strictly enforced for the safety of patrons, staff and artists.
Event is Rain or shine, no outside food or beverage.
$1 from every ticket ($2 per Grid Ticket) goes to Citizen Cope's charity. This will be displayed as "Service Fee" upon checkout.
CITIZEN COPE
Ask him how he knew it was time to record a new studio album and Clarence Greenwood, the trailblazing artist and producer better known as Citizen Cope, has a simple answer: "It was time."

Cope has built an entire career on trusting his gut and following his muse, and if his new album, 'Heroin & Helicopters,' is any indication, his instincts are sharper now than ever before. As technically innovative as it is emotionally resonant, the record arrives at a uniquely challenging moment in modern American culture, when profound political polarization and social divisions seem to grow deeper by the day. Rather than dwell on our differences, though, Cope tunes in to what unites us here, drawing on everything from Chuck Brown and The Beatles to Randy Newman and Bill Withers, aiming his unique brand of urban-folk inwards to reflect on the personal journeys we all undertake to embrace ourselves despite our flaws.

"I think we're all on a mission to find some inner peace," he reflects. "We're all going towards this collective consciousness, and even though it's dark right now, I believe we're going to reach that place together. Peace and harmony and understanding, that's how you combat the darkness, and that's what this record is all about."

While 'Heroin & Helicopters' feels particularly timely, the record's themes have been fixtures of Cope's music since the release of his self-titled debut in 2002. That album was the culmination of years of pursuing his passion. Cope got his musical start in DC before moving to Brooklyn, where he wrote songs while supporting himself on the streets, buying and selling concert and sporting tickets with a cast of characters outside arenas and stadiums. His music spread from fan-to-fan via word of mouth, and over the course of time his songs have become the soundtrack of his fans lives.

The success of Cope's music has always been a slow burn, rather than a flash in the pan. His single "Let The Drummer Kick" eventually went Platinum without any support from commercial radio. The Washington Post has hailed him as "DC's finest export since Marvin Gaye," while Rolling Stone raved that his "uncommon chords and harmonies combine delicate dissonance with unexpected flashes of beauty." In 2004, Cope followed up his self-titled debut with 'The Clarence Greenwood Recordings,' an album Vibe praised as "flawless throughout," gushing that Cope "makes music that feeds your soul…this is one of those CDs you hear at a friend's house and rush out to buy." The collection was largely ignored by mainstream media and never charted, yet the grassroots swell of support kept sales rolling year after year, to the tune of 700,000 copies, and opened the doors to film and television syncs with tracks appearing in Entourage, Sons of Anarchy, Alpha Dog, and more. Songs from the record would go on to be covered by everyone from Carlos Santana and Sheryl Crow to Richie Havens and Rhymefest, and in the years that followed, Cope has headlined all 50 states and shared stages with superstars like Eric Clapton. He cracked the Billboard 200 for the first time with 2006's 'Every Waking Moment,' and then launched his own label to release 2010's 'The Rainwater LP' and 2012's 'One Lovely Day,' his highest charting album to date.

As Cope's career grew, his style of urban-folk never settled into any particular genre in an industry fixated on arbitrary distinctions like radio formats. "I can understand why it didn't go into the cookie-cutter. The music and my life were influenced by growing up in very distinct but different American cultures." Born in Memphis, spending summer months with his great aunt and uncle in a small west Texas town, while being primarily raised in Washington, DC, Cope grew up equally influenced by the production techniques of George Martin, Dr. Dre and Willie Mitchell while listening to everything from Willie Nelson, to John Lennon, Bob Marley, Outkast and A Tribe Called Quest. Artistic boundaries meant nothing.

The 2011 birth of his daughter proved to be an ideal moment to step away from it all and reevaluate what mattered most, both as a songwriter and a man. "It was really important for me to be there with my daughter as she grew up," says Cope. "I took these past several years off of recording mostly just to spend time with her. People say it's not rocket science making records, but there really is a science to making a piece of art that's going to touch people emotionally and have an impact on their lives, and if you're not feeling it, you can't fake it."

Cope's time away from music was also a moment to deal with reflecting and addressing the turmoil he faced surrounding the death of his estranged biological father, who had been physically abusive before abandoning his responsibilities decades earlier. "He was sick and I was able to have a sit down with him before he died," Cope told Lance Armstrong in a poignant conversation for The Forward Podcast. "I had a lot of fear surrounding my father, and when I saw him, I realized I wasn't scared of him as a person. He was just a flawed individual and I saw him in a whole different light. I didn't want to go through life having this anger or hatred, and I don't even know what forgiveness is in that realm, but maybe it's a little bit of forgiving yourself and giving love to yourself."

That kind of self-reflection is at the heart of 'Heroin & Helicopters,' which actually draws its title from a warning Santana shared with Cope one night backstage at The Fillmore. "Stay away from the two H's, Heroin and Helicopters" he said, because they all too often prove fatal for musicians and celebrities. The message resonated with Cope, who saw parallels with a broader culture fixated on shortcuts over self-improvement, on mass production over quality, on greed over empathy.

"We're living in an addicted society," says Cope, "and not just addicted to drugs or alcohol or substances. We're addicted to conflict and fame and social media. We're addicted to getting what we want without working for it, without paying the price."

'Heroin & Helicopters opens with "Duck Confit," a slow-burning and arresting spoken-word meditation that finds Cope looking in as much as he looks out, channeling the uneasy feeling that comes with recognizing your own role in perpetuating the very same social constructs you wish to change. "Where crimes of humanity are concealed and condoned / By self preservation and biblical prophecy...Where you know deep down inside / That something's not right / Like a man killing the mother of his son / Cleaning his shotgun" he says over a simmering organ punctuated with 808 kicks. The track plays out like an overheard prayer, spiritual in its intimacy, and it sets the stage beautifully for a record unafraid to push boundaries and ask uncomfortable questions, questions that transcend any political party or movement and cut to the heart of what it means to be human.

"People try to politicize my music sometimes, but I don't write political records," Cope says definitively. "My music has always been built around consciousness."

The first single "Justice" challenges our very notion of the concept, wondering if we've ever even seen what true righteousness looks like in this world. "The River" castigates and identifies a system built to devalue our lives… "They'll take you down to the river / Leave you down by the river / They'll shoot you down by the river / Leave you to drown by the river." The heavy drum and piano-laden swing of "Sally Walks" is clothed in the story of a lover who's swallowed whole by addiction, but it's not clear if Sally is the lover or the substance itself. Though it would be easy to despair in the face of it all, 'Heroin & Helicopters' insists on defiance, on standing up to power and resisting the force of the invisible hands that seem to guide our every move. "Yella" could almost be a country song, with Cope singing over acoustic guitar and a drum shuffle played by Abe Laboreal, Jr. With lyrics touching on the migration of people from small towns to big cities, Cope uses the analogy of a little league baseball player striking out, ultimately realizing that strength and redemption are gained through struggle, loss and failure. "And the baseball rolls slowly off the pitcher's mound / As I stood in the batter's box once they struck me out / I showed a sign a weakness and I swung my bat / And the fire that once burned yella turned to ash"

"Government / counterfeit / dollar bill / you worship it," Cope sings on "War," an infectious track produced by XZ, who worked closely with him in the studio. The song is a perfect distillation of Cope's brand of wordplay and lyricism, where war not only represents a battlefield, but also alludes to an individual's self-inflicted inner turmoil, moving between the mandated laws of religion and society, and how we reconcile choices within the human psyche.

"Essentially, I'm trying to connect an emotion and lyrics and wrap them up in heavy drums," he explains. "The music isn't hip hop, it isn't reggae, it isn't pop, and it isn't rock and roll. It doesn't necessarily have a home, genre-wise, but it lives in all of those places, it pays respect to all those places."

Respect is ultimately what it all comes down to for Cope: respect for the art, respect for each other, respect for ourselves, respect for our instincts. At the end of the day, we all want the same things, and no matter how much the culture conditions us to believe that peace and happiness can be bought and sold, there's no price tag because they come from within. Change, growth, and satisfaction require patience, work, and love. Seven years in the making, 'Heroin & Helicopters' is proof of that.

Links: Official Website | Facebook | Twitter | Instagram | Spotify

Venue Information:
South Farms
21 Higbie Rd

Morris, CT, 06763