Brother Ali – Tickets – Space Ballroom. – Hamden, CT – September 20th, 2020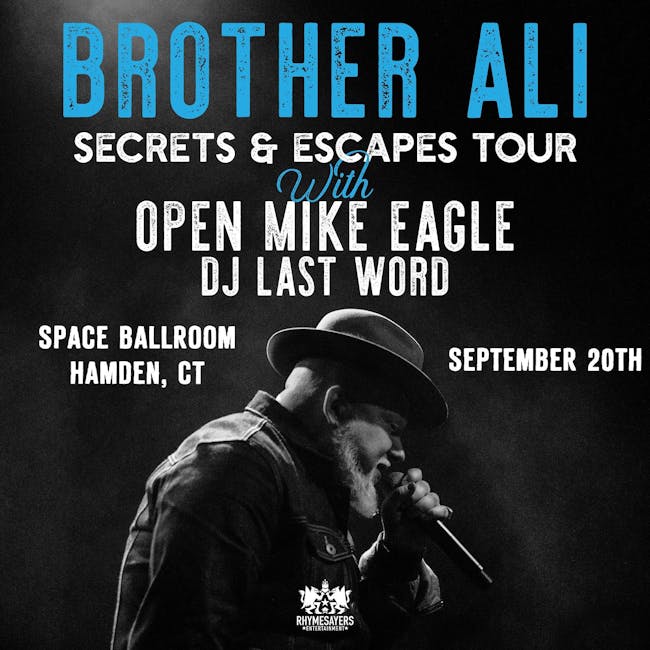 Secrets & Escapes Tour 2020
Brother Ali
Open Mike Eagle, DJ Last Word
Space Ballroom.
Hamden
,
CT
General Admission Standing Room Only
***In the interest of public health, Brother Ali has CANCELLED his 9/20 show. Refunds available at point of purchase. If purchased via credit card, refunds will automatically be issued to the card you used to purchase tickets within 30 business days.***
BROTHER ALI
Over the past 17 years, Brother Ali has earned wide critical acclaim for his deeply personal, socially conscious, and inspiring brand of hip-hop. Under Rhymesayers Entertainment, he's unleashed a series of lauded projects, establishing himself as one of the most respected independent voices in music. The latest chapter in that celebrated journey is All the Beauty in This Whole Life, a 15-track collection produced entirely by Atmosphere's Anthony "Ant" Davis.
"This entire album is based on the reality that beauty is the splendor of truth" says the Minneapolis MC. "Beauty in all of its forms is the outward manifestation of love and virtue. It soothes the soul and pulls it gently toward the truth it communicates. Every word and note of this album is intended to either reflect beauty, or expose the ugliness that blocks us from living lives of meaning."
All the Beauty in This Whole Life is Ali's first official release in five years and represents the newest and most refined chapter of his life's journey. "Each of my albums are the result of the pain, growth and eventual healing that I experience. Articulating the pain and navigating the healing allows the people who really feel my music to travel with me. It's not only that we hurt together, we heal together as well."
Contrasting intensely heavy moments with joyous and grateful ones, All the Beauty in This Whole Life arrives right on time, to help heal a divided nation through the power of music. Ali wouldn't have it any other way. "In times of great suffering in the outside world, the most important battles start from within."
Links: Official Website | Facebook | Twitter | Instagram | Spotify
OPEN MIKE EAGLE
Michael Eagle grew up in chicago listening to alt-rock on q101 and taping underground rap shows on WHPK. He also occasionally snuck and ordered music videos on the Box.

He went to college at southern illinois university and battled everybody everywhere and freestyled all the time. He graduated with a degree in psychology but somehow it never occurred to him to go to Scribble Jam.

He moved to LA and linked up with Project Blowed. He toured with Busdriver, Aceyalone, and Abstract Rude. He started a rap group called Thirsty Fish with Dumbfoundead and Psychosiz and the Swim Team with Alpha MC, VerBS, Sahtyre and more. He worked as a teacher during this time and usually had a hangover.

He put out his first solo album in 2010 with Mush Records. He put out his second LP with Hellfyre Club/Alpha Pup and his third with Fake Four Inc.

He's toured with Blu, Aesop Rock, Dessa, Homeboy Sandman, Ceschi, Moka Only, Louis Logic, and more.

In 2012 he participated in and co-authored a study with the National Insititues of Health that had him freestyle in an MRI machine to study the brain activity that occurs during improvisational rap. Articles were published on nature.com, wired.com, discovery.com, nbc.com, npr.org and more. The articles have become infamous for the unabashed racism in each of their comment sections.

in 2013 he was the first rapper to appear as a guest on Marc Maron's WTF podcast. He's also appeared on the Paul F. Tompkins show, Hannibal Burress's comedy show, the Eric Andre live show, and the WITS show produced by American Public Media.

He produced the first "Mike Eagle Show" in January of 2014. It was a night of rap and comedy lauded by LA Weekly 'as something they look forward to seeing more of'. He too thought they could have written something nicer.

His most recent work is alongside Busdriver, Nocando, milo, and more under the guise of Hellfyre Club. Their 2013 mixtape "Dorner Vs Tookie" was praised by Pitchfork, the Chicago Reader, LA Weekly and more.

He was named Impose Magazine's Rapper of the Year for 2013. The rapper of the whole entire year.

His new album is Dark Comedy. Its 45 minutes of attempting to giggle at the abyss. It features raps from Hannibal Burress and Das Racist's Kool A.D. Beats from Jeremiah Jae, Dibia$e, Busdriver and more. Its his first release on Mello Music Group.

Links: Official Website | Facebook | Twitter | Instagram | Spotify

Venue Information:
Space Ballroom.
295 Treadwell Street

Hamden, CT, 06514